News
How Novorossiya is integrating into Russia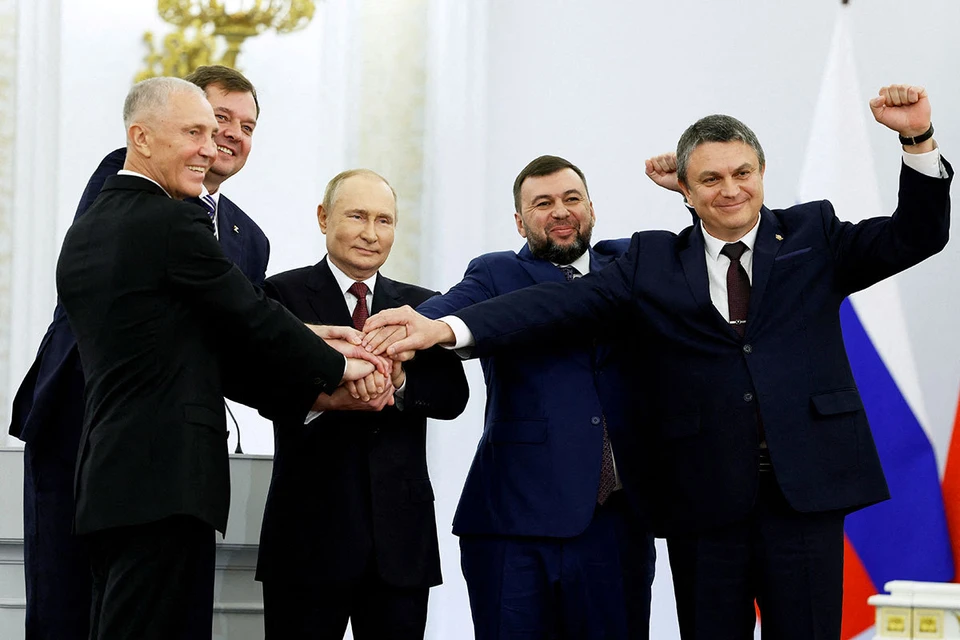 What do the republics of Donbass and Zaporizhia and Kherson regions have to go through in order to live together with Russia
A photo: REUTERS
The International Multimedia Press Center Russia today hosted a Round Table of the Expert Institute for Social Research on the topic: "Political Integration of New Territories". How will accession affect these territories and Russia itself? How will the elections of senior officials in the new territories take place? How will legislative and executive authorities be formed in the affiliated entities? What is the role and place of political parties in the process of integration of new territories?
The discussion was attended by State Duma deputies Artem Bichaev and Dmitry Gusev; Stanislav Naumov, Deputy Chairman of the State Duma Committee on Economic Policy, and Oleg Zakharov, head of the CEC of the New People party; Vladimir Rogov, head of the Zaporozhye region movement "We are with Russia"; Research Institute of Regional Problems Petr Kiryan.
The "Round Table" was moderated by Alexander Asafov, a member of the Public Chamber of Moscow.
WHAT SOCIOLOGISTS SAY
Mikhail Mamonov presented a picture of public sentiment towards the new Russian regions:
– We conducted regular surveys of Russians. The topic of the situation in the Donbass and in the regions was a top event. The level of quality awareness is very high. 80% stated that they are well aware of past referendums. Speaking about the degree of legitimacy of the past elections, 77% said that the referendums were fair in general. 11% of Russians have the opposite opinion. In relation to the inclusion of regions in Russia, about 80% stated a positive assessment. Regarding the obligations of the Russian Federation to protect new territories, 85% said that Russia is obliged to do this, and only 11% have the opposite position. In general, the decisions made are in line with public demand. For many, this is the restoration of social and historical justice.
CHALLENGES AND ISSUES
Petr Kiryan spoke about the most difficult issues facing the state in terms of the return of these territories and what needs to be resolved first:
– VTsIOM and other sociologists who give assessments do not prevaricate: what happened is perceived positively. We do not record substantive arguments against. In the near future we will not see changes in sentiment. But the current situation makes us think about other things: how the regions can return to normal life. What are the challenges and problems? We will not see any progress in the economy until next year. In addition to urgently addressing basic issues of housing, heating, schools and kindergartens, and security, there will be specific issues for each region. Here are the issues of financing, and the beginning and completion of restoration work. As for public administration, all administrations will work effectively by the end of the year in accordance with Russian approaches. The most interesting story is what path we will take until 2026. Public organizations there play the role of political parties. And there is no problem for some to interact with others. Three years in the political sphere will be spent filling political representation. The main social demand is to improve the quality of life and safety. Different parties implement this in different ways.
RUSSIA IS UNITED
Artem Bichaev, representative of United Russia, gave his assessment of the situation:
– We have been present in Zaporozhye for a long time, we have dozens of headquarters there. But in general, we are creating regional branches in all four territories, and regional secretaries have been elected in all these regions. The mission of our party has gone beyond the circle of humanitarian problems. People came with a variety of questions from the first days. From disability benefits to running schools. From the supply of electric stoves, of which we donated about 70,000, to the supply of medicines and the assignment of veteran status. And people constantly asked: how is this solved in Russia? I asked people at the front and in the rear what their expectations were. The turnout and the level of support in the referendums were very high. Now the main task is to justify these expectations so that they are not disappointed – in our country and in the party.
JUSTICE – IS
Socialist-Revolutionary Dmitry Gusev expressed his point of view
– The party "Fair Russia – Patriots – for the Truth" since 2014 has pointed out that Donbass is part of Russia. Our justice center in Donetsk has been operating since last year. We provide great legal assistance. And our centers operate in all territories. There are distribution bases for humanitarian aid in the republics. All parties are engaged in this, but we are working pointwise. Most of our deputies have visited these lands. Everyone talked to people at length. They are also looking for emotional support. There is our Dobrovision project by Oleg Nilov and the cultural and educational project by Elena Drapeko, both launched in Lugansk. We organized a competition for talented children from Donetsk and Lugansk. We involve more and more of our like-minded people in projects that are useful to people. This is the basis for our party building – to go according to the needs of the people. We also have an entrepreneurial unit.
LEAVED – RETURN
Stanislav Naumov spoke about the plans of the Liberal Democratic Party in the region:
– Political integration has begun. Fundamental, based on the basic law. But I ran into a problem there: when the former local authorities left, they took away all the data about people. And we need to decide how to unify our approaches to calculating pensions. The man says: I have special conditions, I worked at the mine, but his data is not there! It is necessary to go to the UN level and demand from Kyiv to return all the databases – in order to resolve issues with the calculation of pensions and social benefits as soon as possible. Well, the most important task is to return everyone who left there, to create conditions for them to want to return home.
PEOPLE – NEW
Oleg Zakharov, head of the CEC of the New People party, spoke about his undertakings in the republics and new regions.
– We want to find our niche in the work in new territories. We have specifics related to entrepreneurial activity. The leader of our party, Nechaev, after the State Duma voted for the annexation of new territories, said: this is a normative start for party work and intensification of work with existing supporters. We have a good history with humanitarian aid and volunteers in articulating requests so that exactly what is needed comes first. And we already have an asset with which we are ready to form branches in all 4 territories. Moreover, there was no such thing that humanitarian convoys had one party flag – we work there together.
TRUST IS PRICELESS
Vladimir Rogov is actively working in the liberated territories, he shared his opinion on integration and electoral campaigns:
– It is important that they do not impose a "new Ukrainianism" on us. And they didn't suggest that we were dependents. Yes, there are concerns among the Cossacks about the preservation of their subjectivity. But it is important to say that it will not get worse – it will get better. In general, Kyiv has never been interested in the subjectivity of Zaporozhye – and many of us left for Russia. But even in the current conditions, this is still up to 5 million people. And its numbers will increase rapidly. These territories are perfectly suitable for agriculture and tourism development. People are our main resource. They differ, perhaps even too bright personal passionarity. When you need to think before doing.
Yes, we need to restore databases – hard disks with data were taken out, and paper media were burned. We were looking for lonely old people realizing that they might not survive. Now it is difficult to restore – where and how did a person work? But people trust us and this trust is priceless.
THEY ARE NOT DEPENDENTS
Alexey Martynov talked about historical parallels in search of common connections:
– In 2014, everything turned out to be the first time – well, neither we nor those who were under our jurisdiction had such an experience. Problems were including ideological plan. But when we got to practice, everything became different. Many of the problems that emerged with the integration of Crimea are still manifesting themselves now. Although the situation is still not Crimean today, but that experience is priceless. It is important to quickly resolve the relationship between the authorities and citizens. After all, their managerial fabric is different from what we have in Russia today. For some time there will be a special regime in these territories – and this leaves an imprint, among other things, on electoral procedures. And I wanted to warn new citizens not to feel like such dependents. I would like them to become full-fledged citizens of our country and bring great benefits to everyone, including economic ones – which they are quite capable of.