News
Hollywood star Hayden Panettiere accused Wladimir Klitschko of deceiving their daughter to Ukraine and forcing her to abandon the child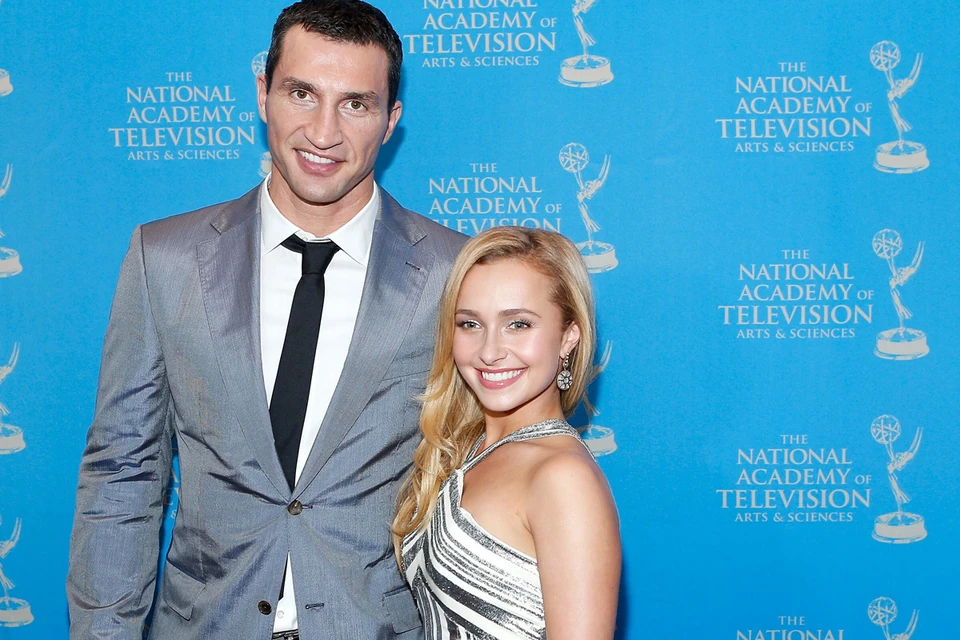 Wladimir Klitschko and Hayden Panettiere have been together for nine years.
A photo: EAST NEWS
It was a beautiful romance: he is a world boxing champion, a dark-haired athlete under two meters tall. She is a petite (153 cm) blonde, the star of Nashville and Heroes. Wladimir Klitschko and Hayden Panettiere met at a social event in 2009. The passion between them broke out instantly, despite the fact that Klitschko lived in Germany at that time, and Hayden lived in Los Angeles.
In May 2011, the couple broke up – due to the fact that it was too difficult to maintain a relationship at a distance. But in 2013, the lovers got back together and even announced their engagement. And then it turned out that the bride was pregnant.

In 2013, the couple announced their engagement, and it soon became clear that Hayden was pregnant.
A photo: GLOBAL LOOK PRESS
The couple's daughter was born on January 9, 2014. The girl received the international name Kaya-Evdokia. Klitschko moved to Los Angeles, and they began a happy parental life. Rather, they were more happy for dad. The young mother fell into a severe postpartum depression, which was aggravated by the actress's addiction to drugs and alcohol.
Hayden began taking illegal drugs at the age of 15. According to her, then the producers gave her some kind of pills so that she would not worry during the interview. Over the years it has developed into an addiction. In addition, Hayden began to drink – so much that she was hospitalized with jaundice and was recognized as an alcoholic. Her liver was collapsing, her nerves were shattered, her career was going downhill. And at home, her little daughter was waiting for her, who, while Hayden was in the clinic, was taken care of by her grandmother, the mother of Wladimir Klitschko. Perhaps it was she who suggested to the boxer the idea to take the granddaughter from the drug addicted daughter-in-law and take her to Kyiv.

In 2014, the actress gave birth to a daughter, Kaya-Evdokia.
A photo: GLOBAL LOOK PRESS
All this, of course, was carefully hidden from the general public. Therefore, when in 2018 information was leaked to the press that four-year-old Kaya now lives in Kyiv with her father, the tabloids were full of covers: "Hayden left her daughter!". The fans decided that the Hollywood star, too busy with her career, simply decided to fuse the baby to dad. But everything turned out to be much more dramatic.
In a new TV interview, Hayden said that Wladimir Klitschko practically kidnapped her daughter and took her to Kyiv. Moreover, the boxer forced the ex-fiancee to abandon the child and give him full custody of Kaya. Today the girl is seven years old, and she hardly sees her mother.

The actress shared her story on Jada Pinkett Smith's Red Table Talk. Photo: video frame.
The actress shared her story on Jada Pinkett Smith's Red Table Talk. Hayden, 33, admitted that she had no idea that Klitschko would decide to take her daughter away from her forever. She was sure that the boxer would take Kaya to Ukraine and bring her back home, as usual. But this did not happen: Klitschko called her from Kyiv and said that her daughter would no longer come to the United States.
– I thought that Kaya would visit him, as she always did, she constantly flew back and forth between me in Nashville and Ukraine. But as soon as she was there, he immediately said: "I want full custody of her." It came as a shock to me," Hayden explained. – It was not my decision. In fact, I didn't even realize what was going on until she was there. In a country dominated by men, there wasn't much I could do.

Now Kaya lives in Europe with her father.
A photo: EAST NEWS
The boxer put pressure on her and forced her to sign a waiver of her daughter. How exactly he blackmailed her, Hayden does not say, but this is already so obvious. Most likely, Klitschko threatened that the whole world would know that she was a drug addict. And that the court will not allow an alcoholic mother to raise a child. As a result, Hayden, who at that time was in a deep depression, signed the documents.
"Signing these papers was the most heartbreaking thing I have ever had to do in my life. Because of the way it was done, it upset me a lot," says the actress.

Now Kaya is seven years old, and she hardly sees her mother.
A photo: GLOBAL LOOK PRESS
Hayden admits that she had serious problems, but at the same time assures that she would never harm her daughter. The actress is sure that if she and Klitschko had agreed in court in the United States, he would not have been able to take the child from her.
"I never put her in danger and didn't do anything that could… In this country, my child would never be taken away from me, this would never happen," says Hayden.
The actress hoped that as soon as she got better, Kaya would return to her and spend the same amount of time with her mother and father. But that did not happen. According to the actress, since Klitschko received full custody, Kaya has never returned to California, where Panettiere now lives. To see her daughter, she has to go to Europe. Despite the fact that the artist underwent an eight-month course of treatment in a rehabilitation center and now does not use drugs or alcohol, Klitschko does not allow her daughter to come to her.

After giving birth, Panettiere suffered from postpartum depression, addiction to drugs and alcohol.
A photo: EAST NEWS
The TV series star remembered one case when Klitschko showed incredible callousness and cruelty towards her.
– I remember how her father called me and said: "Kaya goes and asks other women if she can call them mom." I caught my breath and my heart stopped. He laughed, he thought it was funny, but it was terrible for me. He did not understand, – wiping her tears, said the star. – He thinks he's doing the right thing, but I don't think he fully understands that when kids get older, they especially need a mom. I really hope that one day things will change. I just hope Kaya gets old enough to have her opinion respected and her wishes heard.

Hayden, 33, admitted that she had no idea that Klitschko would decide to take her daughter away from her forever.
A photo: GLOBAL LOOK PRESS
Until recently, the girl lived in Kyiv with her father and grandmother. According to Panettiere, now her daughter, along with 46-year-old Klitschko, has settled in Europe.
The actress admitted that she gave this interview so that she would not be considered a bad mother who abandoned her daughter.
– There was a magazine cover that said something like: "Why did Hayden decide to abandon her daughter." I was in shock, and people on social networks wrote me comments: "How dare you?" and "You're a terrible mother" and "I could never do this to my child." It took me a long time to talk about it. It's scary, you don't want to make anyone angry, especially the one who controls your child, says Panettiere.