News
"Here they vote for their lives": Deputy Khinshtein in Donetsk spoke about the referendums and the course of mobilization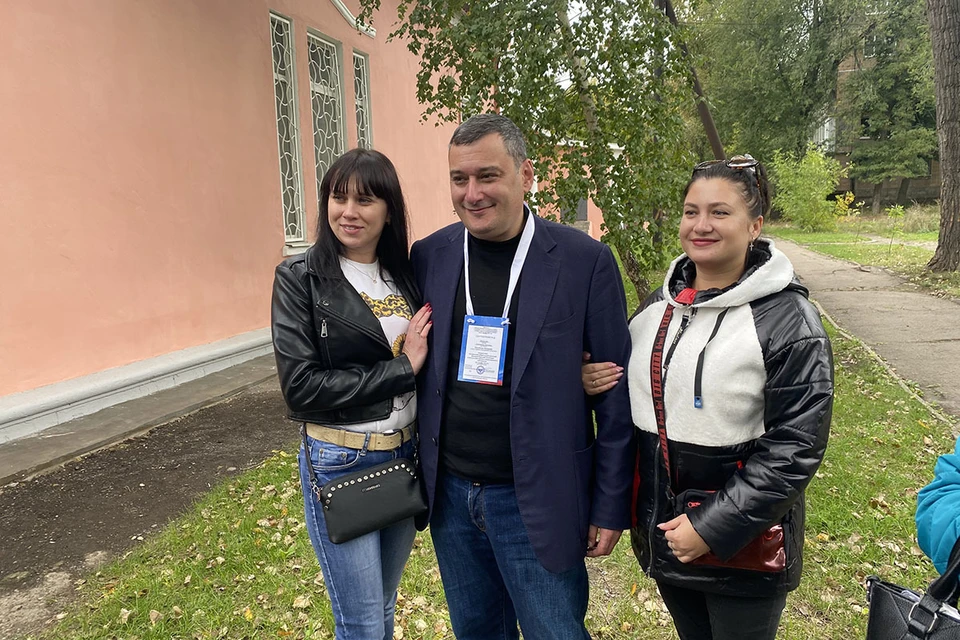 It was simply impossible to speak in front of the polling station – patriotic music shook the gray outlying five-story buildings, and a line of ladies constantly lined up to Alexander Evseevich: to take a picture with him as a keepsake.
A photo: Dmitry STESHIN
It was simply impossible to speak in front of the polling station – patriotic music shook the gray outlying five-story buildings, and a line of ladies constantly lined up to Alexander Evseevich: to take a picture with him as a keepsake. We turned around the corner of the building, but first, two fighters in camouflage and with machine guns moved forward and instantly merged with the already withered vegetation. The third fighter remained to control the rear.
According to Alexander Khinshtein, he had no doubt that no one would have to campaign for the Referendum, "if you live every day under the arrivals, they vote for their lives here." Indeed, our conversation took place against the backdrop of a constant, stable artillery exchange of fire. But it was well heard that on this day "our volley weighed more."
The first question to the State Duma deputy was difficult, practically "unanswered":
– Why such an eight-year pause happened?
– It is difficult for me to answer this question. We harness for a long time, we drive fast. I ask myself this question, I do not find the answer. Why was Kharkov given away in 14? Mariupol? Why have we tried for so many years to find a common language with the West, to convince them that we are not as bad as you think.
And they didn't convince me…
– You still need to talk to the West, but the people who live here have become hostages. I really hope that their black streak in life ends these days.
– Last night I had a dispute with my friend, he is a sniper, he already has 216 days of battles. We talked about healthy men fleeing in droves from Russia. They agreed that they could be subjected to "defeat in civil rights", for example. Acting according to the law. But they must be punished, according to the Constitution, every citizen is obliged to defend his homeland. What can be done in this case? What is your opinion as a member of the State Duma?
– The question is difficult emotionally and legally. The constitution does not allow us to deprive these people of citizenship: one who received Russian citizenship by birth cannot be deprived of it under any circumstances. This can only apply to those who purchased it. But, from the point of view of justice, I would like those who ran away to be returned and sent to positions. But, from the point of view of common sense, such a person will not fight, surrender or defect to the other side …
– I agree with you, the quality of such warriors is zero. Interestingly, my belligerent comrade, on the contrary, believes that they will be reforged in a healthy army team. And, literally, it would not hurt us to have 50 people in a forest plantation behind our backs. We don't need them to attack, let them, and who is the enemy for them, they will understand very quickly.
– Changes are being made to the Legislation, the responsibility for refusing to mobilize is being tightened.
– How do you assess its progress? It seemed to be a few days, but the problems climbed in the first hours.
– I receive dozens of applications every day, primarily from the Samara region, which I represent in parliament. I know how subpoenas are given to people who, according to any criteria, are not subject to mobilization. I know what mobilization plans are coming down… The world is not black and white, and I regret to admit that the reaction of these fugitives is justified. It is not known what is more terrible – betrayal or debilizm.
– Does the State Duma have the tools to somehow correct the mobilization? Remove kinks? Legislatively?
– Alas, this is not a question of the Law, good or bad. It is a question of the implementation of this Law. There are people who manually try to influence these processes. Every day I find the Internet and send a bunch of appeals, signals about violations to the regional military commissar. These are the cases that need to be dealt with. And I'm sure that every problem has a surname, name and patronymic.
– What struck and hooked you personally?
– When calling people with serious illnesses. When fathers of many children and the sole breadwinners of disabled parents are called. Or people with unique specialties. There is another category of people that I dealt with even before the announcement of the CBO. These are citizens who have a military registration specialty and who served in special units of the Ministry of Internal Affairs. This is where the law needs to be amended.
– Why?
– I am convinced that it is wrong to call specialists and law enforcement professionals simply into the armed forces. Not using their professionalism is worse than stupidity.
– Any examples?
– My colleague Yuri Shvydkin has already asked four or five times to be called up. He graduated from the Airborne Forces School, graduated from the service with the rank of captain, deputy battalion commander. Then he went to the Ministry of Internal Affairs, rose to the rank of police colonel. Deputy commander of SOBR, then commander of OMON. I asked him: "Who are you going to fight with? You understand that you are a police colonel, you are 56 years old, but they will take you as a captain. Like Mark Twain – cracking nuts with a golden royal seal. And there are many such cases, the leadership of the Russian Guard is concerned about them. Last week we discussed this with the director of the department, Zolotov.
– What can be done?
– We need to solve several problems. First. When people are called up who previously served in the Internal Troops, in special forces. They need to be seconded to the Russian Guard. Second. It is necessary to provide for the conclusion of short-term contracts not only for the military, but also for the law enforcement service. I have many such appeals from former SOBR and OMON officers. They would gladly go, but there is no such mechanism, only a full-fledged contract with the Ministry of Defense. And the third is the reduction of health requirements.
– Perhaps from the outside it looks like an attempt to hide from military service in the police.
– So the National Guard is not in the convoy! There are many examples when the National Guard entered first and left last. The same Izyum and Balakleya. Let the professionals serve in their places! I hope that we will be able to quickly resolve these issues.