News
Grossi promised to increase the number of IAEA representatives at Zaporozhye NPP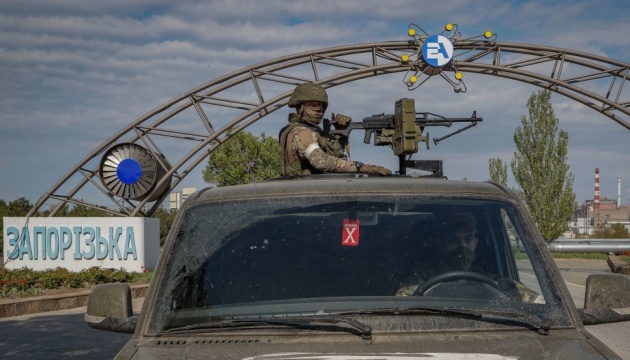 IAEA Director General Rafael Grossi promised to increase the number of agency representatives at the Zaporozhye Nuclear Power Plant.
As an Ukrinform correspondent in New York reports, Prime Minister of Ukraine Denys Shmyhal told reporters about this on Thursday.
According to the prime minister, he had a "fruitful meeting on nuclear security" with the participation of French President Emmanuel Macron, the foreign ministers of Germany and Great Britain, High Representative of the EU Josep Borrell, IAEA Director General Rafael Grossi.
"We discussed further steps for security at the ZNPP and its demilitarization. We are waiting for further actions from the IAEA, support from international partners, so that we can all exhale and no longer be objects of nuclear terror from the Russian Federation," he said.
According to Shmyhal, Western partners are amazed by Russian shelling of the South Ukrainian nuclear power plant.
"The world is excited about Russian terror," he added.
During the meeting, Grossi assured that he would increase the number of IAEA representatives by ZNPP, Shmygal said, recalling that now there are only two of them, and "they monitor the technical parameters of the station, the radiation level." At the same time, Grossi, according to the prime minister, did not specify how many additional specialists he would send to ZNPP.
The prime minister said that at the meeting the issue of demilitarization was discussed – the station itself, the city of Energodar and the 30-kilometer zone around the nuclear power plant.
"So far, the Russian Federation continues terror and, as a terrorist, does not want to give up the opportunity to terrorize Ukraine and the world. Let's see if international pressure on Russia will work to remove this danger," Shmyhal said.
As reported, on September 20-26, a high-level week is held in New York within the framework of the 77th session of the UN General Assembly, where leaders of states, heads of government, heads of foreign affairs departments of member countries speak. Shmyhal, President's wife Olena Zelenska and Prosecutor General of Ukraine Andriy Kostin take part in a number of events on the sidelines of the General Assembly.