News
From kitchen to production: how a federal-scale company grew from garden kittens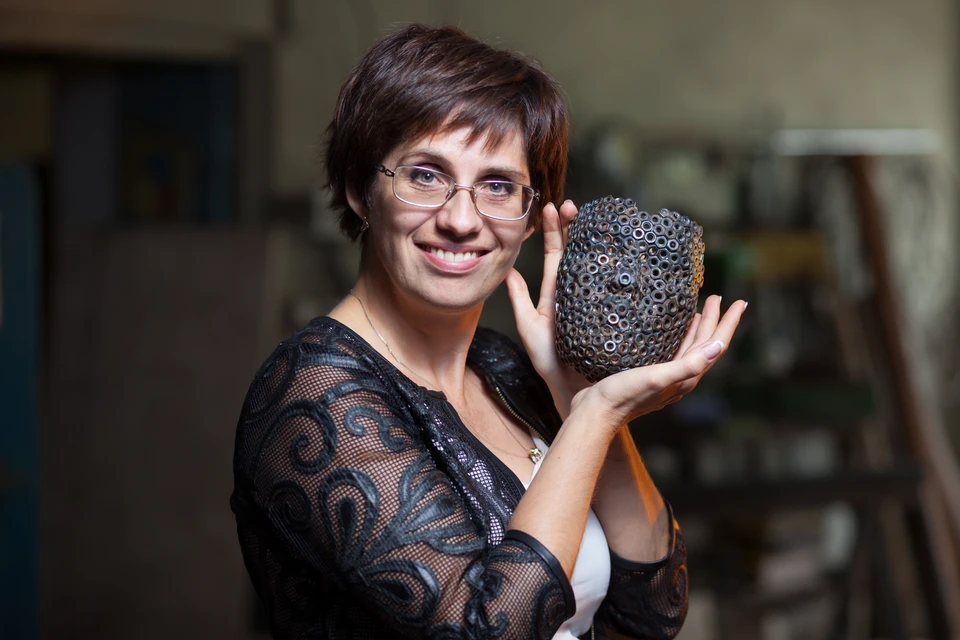 Photo: from personal archive
Head of the Volgograd company "Garden of Joy" Olga Ermachenko 12 years ago, she organized a family production of various decorative elements for public parks, spaces and private gardens. They make light wire decorations and polymer marble sculptures. They also make outdoor furniture. Olga told how they managed not only to keep the company afloat in the difficult covid years, but also to expand the range of goods.
Hedgehogs on batteries
The end of the 2000s was not easy, everyone was experiencing the consequences of the global financial crisis that occurred in 2008. In 2009, Olga gave birth to her second child and thought about how to survive further and how to put the family on its feet in such a difficult situation. The money earned by her husband was not enough for everything. And then the idea was born – to make garden figures. They gathered a family council and decided that "business – to be." At the same time, financial difficulties and economic turmoil, of course, frightened. Olga already had sales experience, before that she was engaged in the sale of water filters, and even then she realized that homeowners like to decorate their adjoining plots with garden figures. Olga, her husband and sister learned a new business, as they say, from scratch. The whole family collected 60 thousand rubles and bought three silicone molds, which they ordered from a company from Belarus.

Photo: from personal archive
"For the first two months, we mixed plaster with water in pots and cast molds in the kitchen. They made figures of seals and hedgehogs, with which all the batteries in the apartment were lined. There they were painted with brushes, the husband varnished in the garage, and then, together with my sister, they took the figures to the shops of our city, "the business woman shares her memories with a smile Olga Ermachenko.
Diligence and good luck did their job – over the year more than 30 wholesalers became their customers. New wishes appeared, they began to expand the range and even take part in garden exhibitions. On one of them, they received a new request for the manufacture of topiary figures. No sooner said than done, mastered a new method. Then they began to make light figures.
DEER BUSINESS
Gradually, they began to expand the range and create their own production. Now they produce products in seven directions. Deer figures made of wire, which can often be seen in foreign films about Christmas, have become especially popular among customers.
"After the February events of this year, representatives of Leroy Merlin contacted us regarding a possible cooperation. They visited our small production facility to get acquainted with the products and evaluate our capabilities," says Olga. – They became interested in our furniture and figures, and we signed an agreement. After that, our products became available to the customers of the network", Olga said.

Photo: from personal archive
Increased demand for the product raised the question of increasing productivity. We decided to automate production and thereby increase output. However, this required funding. In order to realize all her plans, Ermachenko turned to SME Bank for support in purchasing a 3D wire bending machine. The bank approved the application for a loan in an express format under the "umbrella" guarantee of the SME Corporation and Olga was given 4.4 million rubles for a period of 3 years as part of the lending incentive program. Now they make 50 deer a day on this machine, instead of the two that welders used to cook. "Exhaust" has increased by 25 times, and costs have decreased. After all, welders had to pay salaries and taxes on them.
"Umbrella guarantees provide an opportunity to attract credit funds to micro, small and medium-sized enterprises. In this case, 50% of the risk is assumed by the SME Corporation. This guarantee is issued in one window of the bank together with the loan, which makes it possible to halve the period for providing documents and, accordingly, the loan," noted General Director of SME Corporation Alexander Isaevich.
BY THE WAY
Getting an "umbrella guarantee" is not so difficult. The main thing is to comply with the requirements: there were no violations of the conditions and procedure for providing state support to SMEs, or at least 3 years have passed since the last violation; mining and / or sale of minerals is not carried out; the borrower is not in the process of bankruptcy; there are no companies in the group with a revenue of more than 2 billion rubles; the borrower has no outstanding overdue payments to the bank.

Photo: from personal archive
SUBSTITUTE IMPORT
The economic situation that has developed this year not only in Russia, but throughout the world, has become an incentive to look for additional channels for the sale of products. The usual announcement on Avito worked that they were accepting orders for manufacturing on a wire bending machine as contract manufacturing. We made a trial part – an element of an imported spare part for a car – for a company from Samara, and then everything went like clockwork. Customers are satisfied, word of mouth is also working, they say, they do it very well. So the "Garden of Joy" began to produce import-substituting products. However, here too there were pitfalls – now, in order to produce goods in the required volume, working capital was needed. Under an agreement with Leroy Merlin, the subcontractor must have warehouse balances to cover the volume of shipment of products in any quantity to all stores of the chain. As a result, Olga turned to the Industrial Development Fund and received a loan in the amount of 15 million rubles, which made it possible to purchase materials and create the necessary volume of products. The Garden of Joy now delivers to Leroy Merlin on a weekly basis.
FAMILY BUSINESS
Now Olga holds the post of General Director at Sad Joy, she is responsible for marketing and sales. Her husband is the chief engineer, and her sister is in charge of production. And Olga's eldest daughter is developing an export direction. In the near future – the expansion of the range and production.

Photo: from personal archive
"We are a family business. I'm in charge of the creative side of the business and sales, I'm in charge of design and marketing. The sister is responsible for production, finance and shipping. The husband develops new products and is engaged in the technological side of the process, production automation. The eldest daughter organizes participation in international exhibitions. My mom monitors government support programs for small and medium businesses. Thanks to this, we became participants in various programs," tells Olga.
Thanks to the support of the regional export center, the company participates in foreign exhibitions, export contracts have appeared. The company currently covers an area of ​​10,000 sq. meters, has eight lines of business, its products are supplied to large networks of Hoff and Leroy Merlin, sold on marketplaces, and exported to eight countries.

Photo: from personal archive
"I remember how we sat as a family in the kitchen after the first sale of our products for 10 thousand rubles and dreamed that there would be a time when our products could be seen in all the shops of the city! And now our products can be purchased not only in Russia, but also abroad", – happy to share Olga Ermachenko.
She understands how important it is in the modern world to make a company more technologically advanced, this will help to produce more with a minimum expansion of the staff. But the main thing, the entrepreneur is sure, is to give people positive emotions.

Photo: from personal archive
ONLY NUMBERS
Since February 2022, 21 online services and more than 200 support measures for an online application are already available on the SME.RF Digital Platform. More than 210 thousand users have already registered on the portal.