News
Enemy equipment with materials for fortifications is moving from the port of Mariupol to Donetsk
From the seaport of Mariupol temporarily occupied by the Russian army, the movement of enemy vehicles (KamAZ trucks) with a "V" mark with materials for fortifications to leave for Donetsk was recorded.
According to Ukrinform, about this in Telegram said the adviser to the city chairman of Mariupol, Petr Andryushchenko.
"We fix the movement of equipment. For the first time, the loading place was the Mariupol port. Now – ten KamAZ trucks from the port through the city to leave for Donetsk. "V" mark. According to the observation, materials for fortifications are being brought. A ship from Sevastopol, loaded with building materials, entered the port yesterday for the first time. Military cargo has not yet been recorded," Andryushchenko wrote.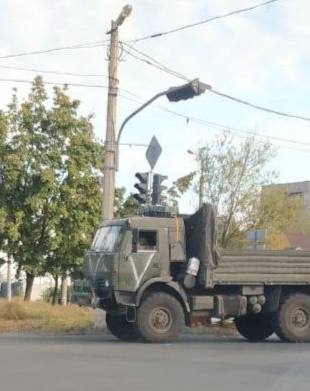 As Ukrinform reported, Russian aggression caused one of the largest humanitarian disasters in Mariupol. The city is almost completely destroyed as a result of enemy shelling.
On September 14, a video appeared on the Internet showing people singing the Anthem of Ukraine in the center of Mariupol in the evening.
Photo: Andryushchenko Time