News
Eat and lose weight: recipes for favorite dishes of Valeria, Dubtsova and Sobchak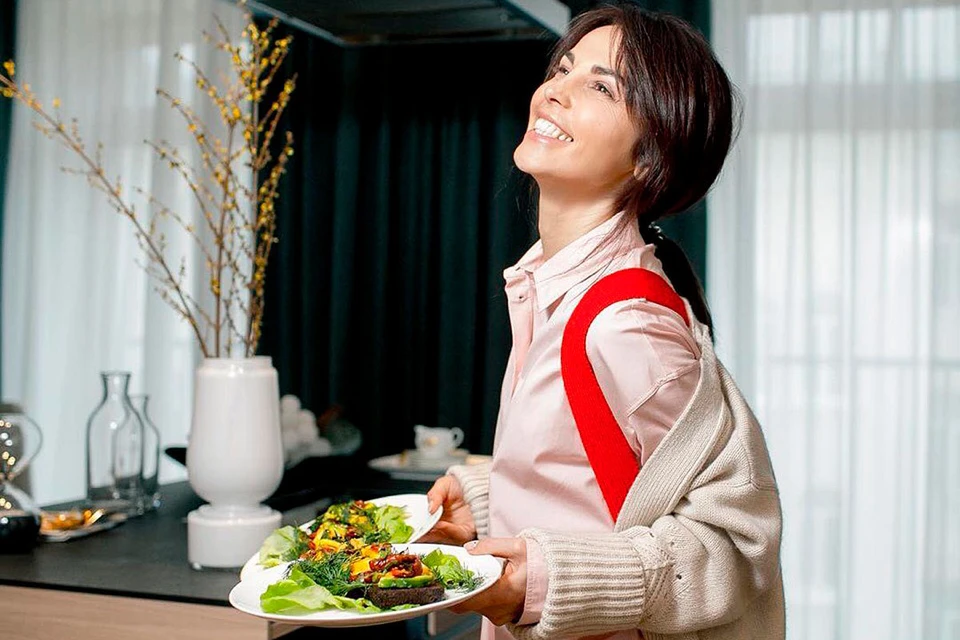 Sati Casanova is a vegetarian, so she chooses vegetable, but very intricate dishes. Photo: VKontakte
Celebrities are constantly on diets. So that the outfits fit well, to look decent on the TV screen, which visually adds 6-7 kg. Therefore, celebrities most often prefer delicious low-calorie dishes, and if they allow themselves "extra" – then for breakfast. The brand chef of the OPUS restaurant Viktor Titov knows what dishes the stars choose: and tells, shows KP.RU their recipes.

Chef Viktor Titov knows stellar tastes.
A photo: Personal archive
Irina Dubtsova and soup with celery
– Irina Dubtsova's incredible weight loss is also to blame for her favorite celery soup. After all, this is a great combination of taste and benefits. This soup does not have as many calories as regular broth.

Soup with celery. Photo: Viktor Titov
Ingredients: Celery root – 100 g. Pumpkin – 100 g. White onion – 100 g. Salt – 4 g. Filtered water – 1.5 l. Celery – 400 g. Zucchini – 100 g. Cherry tomatoes – 10 0 g. Olive oil – 10 g. Green basil – 20 g.
We clean the celery root, pumpkin, white onion. We cut the peeled vegetables into 1 cm cubes, we also tear the basil randomly. Pour water into a container, bring the water to a boil, add the onion and cook for 30 minutes. Then add celery, zucchini and cook for 10 minutes. After that, add cherry tomatoes, olive oil and basil – and cook for another 5 minutes. We are waiting for the soup to cool down a bit and you can try.

Irina Dubtsova unloads on vegetables and fruits. Photo: VKontakte.
Valeria and fruit salad
– Fruit salad is a great solution for those who care about their figure, but at the same time love desserts. Singer Valeria, by the way, does just that.
Ingredients: Orange, pineapple, pear, kiwi, grapes, fresh orange – all 30 g each. Strawberries, mango, raspberries, blueberries – 15 g each.
Cut fruit, mix and arrange with berries. Salad ready!

Fruit salad. Photo: Viktor Titov
Yana Rudkovskaya and bacon and eggs
– Many people know about Yana Rudkovskaya's great love for beautiful and tasty breakfasts. Here is a recipe for how to cook one of them.
Ingredients: Bacon – 20 g. Chicken egg – 3 pieces. Tomato – 1 piece. Salt – to taste. Green basil, black pepper, chives.
First, fry the bacon in a dry frying pan – about 25 minutes over medium heat. Then add chicken eggs to it. Put randomly chopped tomato on top. Be sure to salt, covering the yolks with a spoon. Sprinkle with green basil, black pepper and chives.

Egg and bacon. Photo: Viktor Titov
Ksenia Sobchak and sea fish in lemon sauce
– This dish demonstrates the delicate taste of Ksenia Sobchak.
Ingredients: Sea bass fillet. For the sauce: Chicken egg – 1 piece. Mustard – 5 g. Lemon juice – 25 g. Lemon zest – 3 g. Cream 33% – 20 g. Fish or vegetable broth – 20 g. Saffron – 5 fibers. Butter – 15 g. Salt, pepper – to taste. Marinade: garlic – ½ clove, olive oil – 5 g, thyme sprig, salt.
Marinate the sea bass fillet: grease with salt, add a sprig of thyme, crushed garlic, grease with olive oil, leave for 5 minutes. Then fry on both sides – first on the skin until golden brown. While the sea bass is fried, prepare the sauce. Combine all ingredients in a small saucepan over medium heat, whisking continuously. Bring to a boil and remove!

Sea bass fillet with vegetables. Photo: Viktor Titov
Sati Casanova and vegetables in curry coconut sauce
– Sati Kazanova chooses not the simplest dishes. But it's very tasty. So if you, like me, love to spend time in the kitchen, then be sure to try this recipe.
Ingredients: Yellow pepper, red pepper, celery stalk, eggplant – all 20 g each. Zucchini – 40 g. Red onion – 15 g. Corn starch – 10 g. Vegetable oil – 30 g. Coconut cream – 150 g. Coconut water – 50 g. Soy sauce – 10 g. Fresh lime – 5 g. Curry sauce: vegetable oil – 10 g, chili pepper – 3 g, shallot – 10 g, garlic – 2 g, lime leaf – 1 g, lemongrass – 4 g, curry paste – 12 g, fresh ginger – 2 g.

Vegetables in coke curry sauce. Photo: Viktor Titov
We cut the vegetables into a bar – 1 cm wide, 4 – 5 cm long. Be sure to salt the eggplant (1 g) and wait 1 minute, so it will not be bitter and dark. Sliced ​​vegetables should be rolled in starch and fried in hot vegetable oil. Next we prepare the sauce. To do this, put all the ingredients for the sauce in the pan, after pouring vegetable oil into it. Fry for 2 minutes over medium heat. Next, pour in the coconut cream, coconut water, soy sauce, fresh lime and simmer over low heat for 4 minutes. Combine vegetables and sauce and simmer for 5 minutes. Sprinkle with herbs.

Homemade pumpkin muffins. Photo: Viktor Titov