News
Dmitry Shishkin, founder of the group of companies of the same name and president of the Roslegprom association: How do clothing manufacturers resist sanctions?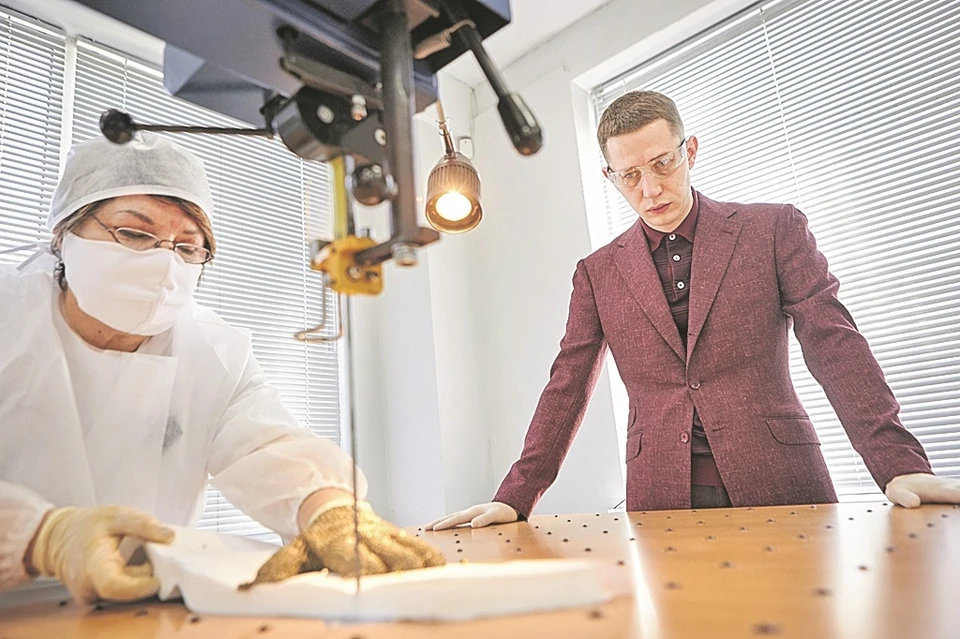 Dmitry Shishkin (pictured right): "Now the industry as a whole feels comfortable. Enterprises are working at full capacity – with much more than in pre-pandemic years."
We figured out the example of light industry. Share your expert opinion Dmitry Shishkin – founder of the group of companies of the same name and president of the Roslegprom association believes that under the current conditions, domestic clothing manufacturers have a good chance for a new stage of development.
FULL LOAD
– Dmitry Olegovich, several months ago a number of foreign clothing retailers announced their withdrawal from Russia. Who replaced them?
– Yes, some brands have indeed left the Russian market. However, this circumstance is one of the main points of growth for the domestic light industry and the fashion industry in our country. We have a production potential, and with creativity, we are definitely all right.
Now domestic brands are actively developing. Let them not always be localized within the country (often in Asia, like most world brands, they produce their products). But at least the aggregation of profits and the development of innovations take place within Russia. Many brands are actively occupying the niches vacated after the departure of foreign manufacturers.

Digitalization allows launching new products in 3-4 days. In older factories, this takes months.
– Western countries expected that the Russian economy would suffocate from their sanctions pressure. How did it affect Russian clothing manufacturers?
– At first, difficulties arose with the violation of logistics chains, with the delivery of materials and accessories. But after two or three months, the producers built new channels. Now the industry as a whole feels comfortable. Enterprises are working at full capacity – with much more than in pre-pandemic years. Russian business is developing its own brands, corporate orders are coming in, mobilization production has grown.
FASTER, CHEAPER AND BETTER
– You launched a digital factory in Russia five years ago, which is quite a responsible step. How does this production differ from the traditional type, what is unique?
– At the first stage, we carried out the maximum automation of production, acquired the most advanced CNC equipment, where seamstresses become machine operators. All functions and goal setting are set from the computer. For two years we were engaged in automation as the first preventive step, and then total digitalization followed. All processes of designing production and delivery are closed in a single ecosystem.
What does it give? Thanks to digitalization, we produce more, faster, cheaper and at least 25-30% better than old-style production. In parallel, we can sew several types of completely different products.
The emphasis in digital manufacturing is not on working specialties, but on engineering: designers and technologists who are responsible for product design. With this approach, we can rebuild production many times faster than old-style factories. For example, it can take one to three months for many factories to launch production of personal protective equipment during a pandemic or now to develop military uniforms. And three or four days are enough for us to adapt to any type of product in an interactive format and immediately reach large volumes of output. At the same time, the clothes will be of the highest quality.

A unit from a high-tech future? No, this is a real sewing…
– Surely you have calculations – how many seamstresses does one operator replace?
– One good technologist working through the digital ecosystem can replace a large workshop with 30 to 40 seamstresses. Yes, it does not produce output, but it is precisely the correct formation of the terms of reference, the technological sequence, the development of an experimental sample, the pattern base as soon as possible that then allows you to place production not only at your own enterprises, but also at any third-party factories that are connected to your digital ecosystem . For example, during the coronavirus pandemic in the Urals-Volga Federal District, more than 200 factories under our supervision produced the same type
products to quickly meet the country's demand for masks, overalls for doctors and other products that require a certain degree of protection. At that time, we produced about 12% of the total Russian volume of all PPE, and at the same time, we gave a tenth of them free of charge to medical institutions.
– You started sewing military uniforms for the mobilized. How many do you plan to produce?
– I freed up 30% of the enterprises' capacities for sewing uniforms. Everything that I found on the market – fabric, accessories that comply with GOST – I bought as a private initiative. We plan to produce 100,000 sets of winter and summer uniforms by the end of the year. The parties will be transferred to resource centers, volunteer organizations, city and regional administrations. But I do not consider this project as a business. Still, now the task is to do what we can to help the front and the Fatherland, and not to make money on it.

ORDER FOR SOCIAL ACTIVITIES
– Dmitry Olegovich, have you sewed something with your own hands for a long time?
– For 15 years, I have mastered almost all professions: both workers and managers. This is the only way to manage truly large teams.
– The other day you received a medal of the Order of Merit for the Fatherland, II degree. Including for the development of the Roslegprom association, which brought together most of the disparate unions in the fashion business and light industry of the country. And it became a kind of window for interaction with the authorities, a dialogue platform. Congratulations! What do you think were the key factors for receiving the award?
– There are three main ones. Firstly, this is the creation of the first digital garment factory in the post-Soviet space. Secondly, very active work during the pandemic, when we produced a tenth of the all-Russian volume of all personal protective equipment. As well as active social activities, the development of the Roslegprom association, which has really become a window for interaction with both the authorities and a dialogue platform for business.
We are very pleased that our services were highly appreciated. The main thing is to develop further and not stop.