News
Diana Shurygina, raped at the age of 16, makes money on virtual sex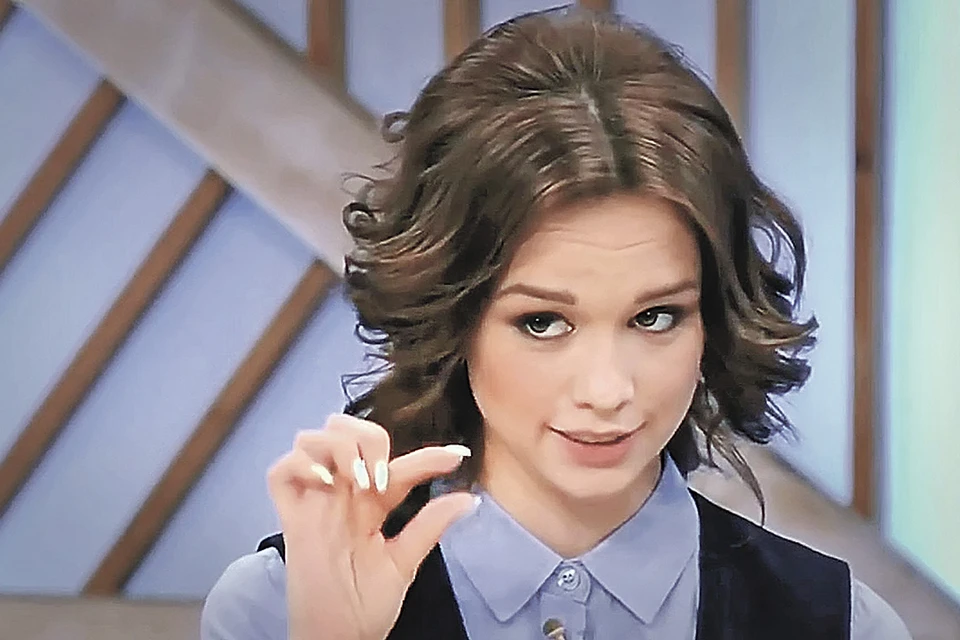 – On the bottom!
A photo: First channel
A few years ago name of Diana Shurygina thundered on all federal channels. But lately, the lively talk show participant has disappeared from the public space. We found out what happened to the heroine of the scandalous story.
Atypical victim
The native of Ulyanovsk gained fame all over the country at the end of 2016 with the light hand of Andrei Malakhov, who gave her the floor in the studio of the program "Let them talk". As the editors of the talk show said, the filmed issue about the rape of a girl from the outback lay on the shelf for several weeks – no one believed that she could hook the people. And indeed: there are few girls who have been subjected to violent actions all over Russia. However, when the story of Shurygina was nevertheless shown, it caused a real avalanche of gossip. The release of the talk show went viral on the internet, ratings skyrocketing. The scandalous glory of this story, which received a great response in society, lay in the heroine herself, whose behavior did not correspond to the notions of a classic victim. In the studio, viewers did not see an unfortunate provincial woman, crushed by the experience, causing compassion and sympathy, but a rather aggressive person with manners like that of a "brothel girl". Diana behaved cheekily, snapped and attacked those who did not believe her testimony.

A native of Ulyanovsk became known throughout the country with the light hand of Andrei Malakhov and his talk show "Let them talk."
A photo: First channel
Her story, in principle, was banal: the girl spent the night with a drinking company in a rented cottage, where she was forced to have sexual intercourse by a drunk guy four years older than her. The crime took place in Ulyanovsk. As follows from the materials of the criminal case, in March 2016, a second-year student of a technical school, Diana Shurygina, who was then 16 years old, was under the age of majority, was invited by friends of her friends to celebrate the 20th anniversary of a friend along with a couple of her peers. The other guys were a little older. They drank vodka and beer. As Shurygina later told the police, of the whole company, she liked Sergei Semenov the most, but she had no plans to have sex with him. The two of them ended up in a separate room. As the investigation concluded, Semyonov knew that the girl was a minor. Nevertheless, the guy closed the door, pushed Shurygina onto the bed, hit her in the face and, holding her hands, raped her. The girl claimed that she screamed and called for help, but because of the loud music she was not heard. Because of the alcohol she vomited, she passed out. When I came to my senses, I called my parents, together we went to file a complaint with the police about rape …
Internet fame
The family wrote a letter to the talk show of the federal channel accused of rape Semyonov. Relatives believed that the girl herself was a provocateur, had a stormy dissolute personal life (before this incident, she lived with a guy). They say that sexual intercourse with the accused occurred while drunk, and it was not he who left the bruises on the body, but Shurygina's father, who allegedly beat his daughter for spending the night outside the house. As a result, the Ulyanovsk prosecutor's office proved that there was a rape, and the court gave the guy as much as 8 years of hard work. The announced term shocked many viewers, especially since it resonated with Shurygina's arrogant behavior. She, in turn, later justified herself that such an image was developed for her by the editors of the program, and she was seduced. However, it is unlikely that a non-professional artist could play impudence so convincingly.
After the first release of the program with Shurygina, social networks exploded with indignation. Many sided with the rapist, seeing him as a victim of circumstances. There were also defenders of the offended Shurygina. She opened her own youtube channel, began to actively maintain pages on social networks and, on the crest of scandalous fame, earn money as a blogger. Her page in a matter of weeks gained 2 million subscribers who do not skimp on unflattering words addressed to her.
The editors of "Let them talk" concluded a contract with Diana, according to which she did not have the right to come to other programs for six months. In total, five issues were filmed with her in prime time. For a while, the girl became a TV star with a good fee and a dubious reputation. Later, she came to the program "Actually" on Channel One, where she passed a lie detector, which showed the veracity of her confessions. And still, few people perceived her as a victim for whom rape would have been a tragedy.

The rapist Sergei Semyonov served a year and was released on parole.
A photo: SOCIAL NETWORK
In her native Ulyanovsk, Diana became an anti-hero. Spontaneous rallies were held there in support of the convicted rapist. Shurygina's parents – a salesman and a truck driver – said they were being harassed. Mother, by the way, who gave birth to Diana at the age of 15, said that she was beaten on the street. Soon she divorced the girl's father.
The local court, under the onslaught of popular pressure, revised the sentence for the unfortunate rapist, reducing it to three years. Sergei served a year, having been released on parole. After his release, he was pulled out a couple of times on a talk show, but unlike Shurygina, he behaved in front of the cameras, and the TV star did not come out of him.
Marriage and a millionaire lover
But Diana, who had tasted glory, did not want to go into the shadows. A year later, at 18, she got married. The wedding, which was covered on television, was paid for by Andrey Malakhov. 29-year-old cameraman of Channel One Andrey Shlyagin fell in love with Shurygin. They met on television. Unlike the bride, the groom was not involved in public scandals.
"Andrey is one of those rare people who did not delve into the essence of the hype associated with our family. Seeing Diana for the first time, he did not know the details that the whole country discussed with gusto. But before meeting his parents, he watched all the episodes of "Let them talk" and concluded that Diana is actually a victim of a scandal, "Diana's mother Natalya shared with KP.

Diana married Channel One operator Andrei Shlyagin.
A photo: SOCIAL NETWORK
The marriage registration took place on October 5, 2017. At the celebration, the bride even burst into tears of happiness … Her husband defended Diana in every possible way. It was evident that he was crazy about a miniature coquette. However, Diana and Andrei stayed in the status of husband and wife for only two years.
Andrey suspected Diana of treason against the background of reports that Denis Rebrov, who made a business on cryptocurrency, became her new boyfriend. They wrote about him that he is a millionaire. All three – Rebrov, Shurygina and Shlyagin – came to the TV program, where the girl proved to her husband that there was no closeness between her and Denis, although the lie detector showed otherwise. Andrew suggested a divorce. By that time, he was already tired of living under the same roof with "the most scandalous girl in the country."
Shurygina's new boyfriend said that he had an affair with Diana when she was still married. Rebrov said that initially he had a business meeting with Diana and her husband, during which they had dinner, smoked a hookah and talked.
"It was cool and easy. I was pleased and did not want to leave, but everyone had their own plans for the evening, and I had to disperse. An hour later, I wrote to Diana on social networks, and after a short correspondence, we exchanged numbers, "said the man on social networks. – The next day I wanted to see her again and offered to meet together. She said that her husband would definitely not let her go alone, but I did not back down and persuaded her to run away to me for an hour. As a result, without her husband, she could not come at all, and the three of us agreed to meet in a bowling alley. There were several such dates for the three of us, after which the owner spoke in Rebrov: "I realized that I wanted to achieve it. And he made a plan to conquer it." He paid for Shurygina's vacation at resorts and showered her with gifts. But soon he cooled to his "prey".

Shurygina tried to work, but she quickly got bored. She also did not want to study after college.
A photo: SOCIAL NETWORK
Shurygina, on the other hand, got hooked on the social network, but interest in her inexorably faded away. Income-generating advertising on her page was becoming less and less. And parting with a millionaire threatened with lack of money. On Channel One, Diana was supported by offering to become a guest editor – to meet the participants of the show. After a couple of months, Shurygina fled, saying that editorial work was too stressful. With fees from talk shows and advertising, she bought an apartment in Moscow. For some time she worked in a bar, for an additional amount, visitors were allowed to take pictures with a TV star. However, the blonde quickly got tired of working. Diana graduated from the Ulyanovsk Vocational Pedagogical College, studied as a machine and locksmith supervisor. She did not want to continue her education. Meanwhile, the demand for the "raped blonde" finally subsided. They didn't even call her an expert on a talk show – TV editors whispered that there was simply nothing to talk about with Shurygina.
Enlarged breasts
A year ago, Diana shocked subscribers with her revelations. For example, that she was addicted to "illicit drugs" for some time. There was an addiction, from which Shurygina was treated in a special medical institution. Then Diana enlarged her breasts. The girl filmed a video from the hospital room and admitted that the plastic surgery went without complications. She showed that she had a tongue piercing and a lot of tattoos. It turns out that it's not just that. Since there are almost no advertising projects, the active blonde has come up with a new business.
Now, not burdened with complexes, Shurygina earns money by making erotic shootings of herself beloved. Sometimes she is assisted by a companion. The idea is borrowed from the Tatu group: girls kiss in a jacuzzi, depicting same-sex love. In social networks, Shurygina uploads intimate content – candid photos and videos. On them, she is either slightly covered, or does not show her face. But this is only a seed. I subscribed to one of her channels in Telegram. Updates come daily: in the photo, Diana is naked, but her nipples are covered with drawn hearts, and the call: "Guys, I have a private paid channel with my super content. In private, you will find: personal communication with everyone in the correspondence, the opportunity to see my explicit videos and photos without censorship before anyone else, Wirth (virtual sex. – Ed.). Hurry, ten spots left!

Now the girl offers virtual sex in social networks.
A photo: SOCIAL NETWORK
In a word, today's earnings of Diana Shurygina are sex services in social networks. The girl flirts with male subscribers, responding to their private messages, and signs: "Your Dee." The last one was especially touching – is that a hint at Princess Diana?
I sent Shurygina a request for an interview. The trivial was spinning in my head: "How did you come to such a life?" That is, no, it's more correct like this: how, having a beautiful appearance and a promoted name, can you reduce everything to nudity in a mobile application? How promising is this new type of self-employment? What is the income? By the way, are taxes paid on the provision of such services? Any questions. But Shurygina refuses free interviews. She also does not want to talk heart to heart – apparently, her occupation is not one of those that can be boasted and proud of. Although Diana trumps by the fact that she is not a kept woman who needs to please the rich man. She is her own director and actress. And still considers himself a star. And a star is like a diagnosis, it is difficult to get rid of the need to constantly be in sight.
On social networks, Shurygina openly declares that she is a "super non-conservative person": she likes both boys and girls. Diana says that she participated in group sex and often changed sexual partners. The girl assures that she is not embarrassed by relationships in which a man has sex not only with her, but also with someone else. In a word, she is for free love. She reports that she is not going to get married, and in general, lately she likes living with a girl more. Diana does not think about the future and lives only for today.
BY THE WAY
The expression "on the bottom" has become a meme

Shurygin and her phrase were printed on T-shirts and stickers.
A photo: SOCIAL NETWORK
Diana said this phrase in the first issue of Andrei Malakhov's talk show. In response to accusations that she had drunk a lot of vodka before the rape. Shurygina said that she drank "on the bottom", and showed with her fingers how much it was approximately. Then, craftsmen from social networks put music on this fragment of the video, drew Internet memes. T-shirts with this phrase and car stickers with a photo of Shurygina were launched on sale. Even the term "Diana Shurygina's syndrome" appeared. As stated in the Internet encyclopedia, "this concept serves to describe cases where the public accusation of sexual harassment is a way to get fame, fame, material wealth."