News
Declaring mobilization, Putin started a war against his own people – Lithuania at the UN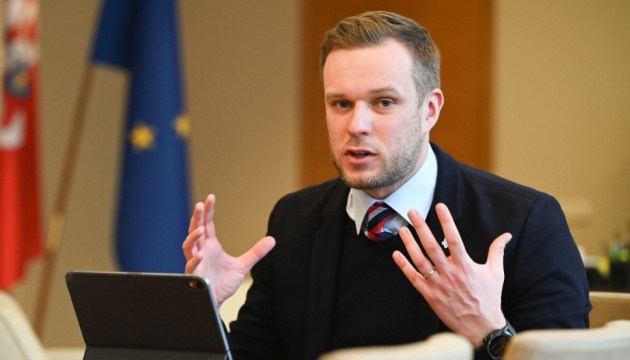 The only arsenal left to Putin is the spread of fear, blackmail and manipulation, and now he is trying to mobilize hundreds of thousands of Russians for dirty aggression against Ukraine, thereby declaring war on his own people.
Lithuanian Foreign Minister Gabrielius Landsbergis made such a statement on behalf of the three Baltic countries at a meeting of the UN Security Council on Thursday, an Ukrinform correspondent reports.
"The sowing of fear, the use of blackmail and manipulation is the only arsenal of weapons that Putin has left. We will not be afraid of this and will respond calmly and decisively," the Lithuanian minister stressed.
He noted that Russia "challenges the principles of the UN" on a daily basis and has already become synonymous with brutality, a terrorist state and genocide. However, the Putin regime has also turned against its own people.
"By declaring mobilization, he started a war against his own population, against the people, who should become the future of his country, but now it is turning into a weapon of the colonial past," Landsbergis said.
He also stressed that the Kremlin is now resorting to nuclear threats, although it is aware that the potential consequences of attacks on the Zaporozhye nuclear power plant could be larger than Chernobyl and Fukushima.
"But we should not be afraid, we should use all the power of the international community to demand from Russia the unconditional withdrawal of all its forces from Zaporozhye," the head of Lithuanian diplomacy said.
He also called on the world to "shine light" on Russian crimes and ensure international justice: "We have an obligation to hold Putin accountable." In this regard, Landsbergis stressed the need to create a Special Tribunal to consider the crimes of Russian aggression against Ukraine.
"Ukraine is fighting for all the principles of the UN, Ukraine is fighting for each of us, so I call on the Council not to be afraid to act, but beware of doubt and indifference. I appeal to every state, we still have a chance to preserve peace and security by making the right decisions in defense of the international order built on rules," Landsbergis stressed.
As a result of his speech, the head of the Lithuanian Foreign Ministry mentioned the role of Lukashenko's regime in the aggression against Ukraine: "Not only Russia will be held accountable – the regime in Belarus will also be on the list of the accused."
As Ukrinform reported, high-level meetings of the 77th UN General Assembly began this week in New York with the participation of delegations of member countries headed by heads of state and government. On Thursday, the UN headquarters hosted a meeting of the Security Council to fight impunity in connection with the Russian war in Ukraine.