News
Cinema, vernissage and gypsy romances: What else to do in Moscow libraries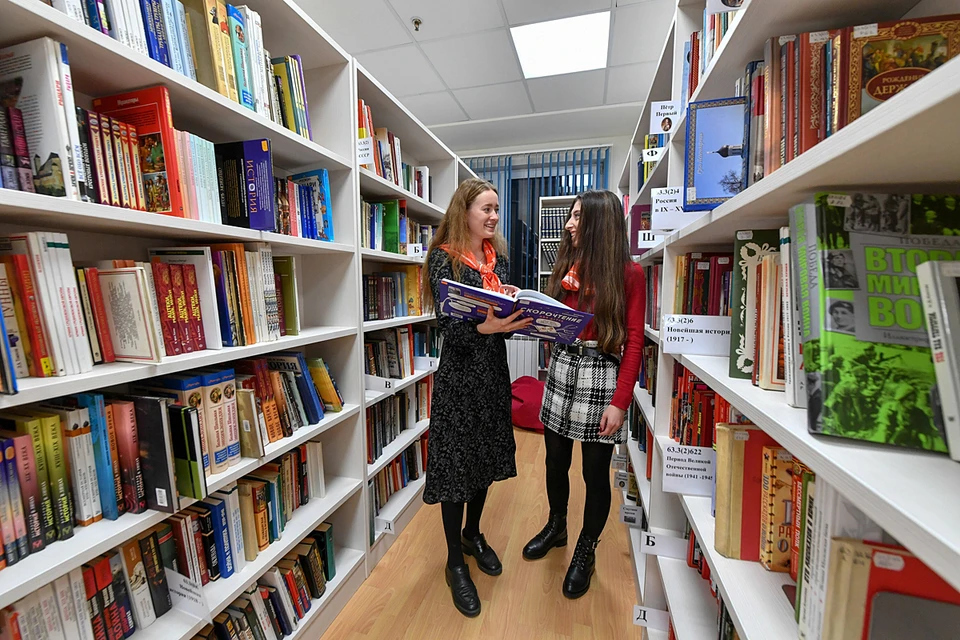 The whole family can come to the Russian State Children's Library
A photo: MOSCOW City News Agency
It got cold – and then it's time to look into … the library. Moreover, now you can not only read books there, but also watch movies for free, come to concerts, exhibitions and creative meetings. A library card is not required to participate in cultural events. Entrance is free everywhere, by prior registration. We tell you what interesting things await visitors in the near future in the libraries of the city.
WATCH A SHORT
Every week, the Nekrasov Library hosts screenings of several short films. One such film lasts an average of 10 to 40 minutes. These works were previously presented for viewing around the world – from Kinotavr and the Moscow International Film Festival to well-known foreign venues. Themes and genres are very different – love, fantasy, comedy, melodrama, our whole life.
Nekrasovka's playbill also includes meditations supervised by a yoga instructor, lectures on Iranian hospitality and healthy eating, classes on teaching negotiation technology (for more details, see the library's website).
When: The next film screening is on October 3, at 19.30.
How to get there: Art. m. "Bauman", st. Baumanskaya, 58/25, building 14.
LECTURES ABOUT WORLD MASTERPIECES
For lovers of classical music, the Svetlov Central Youth Library has launched a series of concert-lectures about world masterpieces. The next issue was devoted to "Pictures at an Exhibition" by Modest Mussorgsky. The reading room's schedule also includes a creative club for children, a game library for everyone, and immersive performances. You can follow the announcements on the site.
When: classical concert-lecture – October 9, at 20.00.
How to get there: Art. m. "Mayakovskaya", st. Bolshaya Sadovaya, 1.
MUSIC HAS TIED US
The Turgenev library-reading room hosts free concerts several times a week. The artists' repertoire includes Russian and gypsy romances, folk songs, and classical works. The atmosphere is very conducive – an old mansion, a solemn living room with a piano, stucco, sparkling chandeliers and a fireplace. It is here that the International Day of Music will be celebrated with a concert with compositions by Vivaldi, Bach, Brahms, Saint-Saens, Tchaikovsky.
For connoisseurs of painting, until October 9, the reading room holds an exhibition of watercolors by Elena Yaroslavtseva "Wonderful Moments of a Quiet Province". Visitors will see pictures from the life of the cities of our country and the south of Italy.
When: concert – October 1, at 19.00; vernissage – October 5, at 18.30.
More on the site.
How to get there: Art. m. "Turgenevskaya", "Chistye Prudy", "Sretensky Boulevard", Bobrov per., 6, building 1, 2.
MYSTERIES OF THE FAMILY ALBUM
Those who wish to learn more about their ancestors will be taught the basics of genealogy at a meeting in the literary and historical salon "Family History: Searches and Discoveries" in the Losev House. Experienced researchers will explain how home photos, documents and things can help beginners, how to use official archives, and what useful information can be found on the Internet.
In the coming weeks, the science library and memorial museum will also host music festivals, philosophical discussions, and a film lecture for retirees on Fridays. There are also paid events, for example, walking tours in the center of the capital (ticket price – 350 rubles).
When: October 2, at 17.30.
Recording on the site
How to get there: Art. m. "Arbat", st. Arbat, 33.

Those who wish to learn more about their ancestors will be taught the basics of genealogy at a meeting in the literary and historical salon "Family History: Searches and Discoveries" in the Losev House
A photo: MOSCOW City News Agency
VISIT POETS AND WRITERS
Admirers of Marina Tsvetaeva are invited to the Gogol House for a musical one-man show. The audience will hear songs and romances based on the poet's poems, as well as fragments from her diaries and letters.
The library's weekly poster also includes meetings with writers, lectures on capital estates, an open literary club with discussions of books read. There are also paid entertainment – excursions to Peredelkino, performances for children and adults, viewing the memorial exposition with a guide. Prices from 150 – 500 rubles. up to 2860 rubles.
When: solo performance about Tsvetaeva – October 12, at 19.00.
Recording on the site.
How to get there: Art. metro station "Arbatskaya", Nikitsky Boulevard, 7A.
BOARD GAME CLUB
The whole family can come to the Russian State Children's Library (RSDL) and play board games in the Labyrinth club. First of all, they accept schoolchildren from 8 to 14 years old, and with them everyone who likes to play and communicate. Participants are waiting not only table games, but also mobile, intellectual, fun and serious entertainment.
And even before October 13 in the Great Exhibition Hall there will be an open exposition of works by the famous illustrator Nikolai Ustinov. His drawings adorn books with fairy tales by Andersen, the Brothers Grimm, collections of Agnia Barto, Boris Zhitkov, Mikhail Prishvin, Yuri Koval and many other children's poets and writers. Ustinov also drew for the Pionerskaya Pravda newspaper, the Murzilka and Krokodil magazines (more details on library website in the "Poster" section).
When: The club is open every Saturday from 16.00 to 19.00. The next collection is October 1st.
Free, without pre-registration.
How to get there: st. metro station "Oktyabrskaya", Kaluzhskaya sq., 1, room. 3.12. The entrance to the RGDB is the first to Leninsky Prospekt under the colonnade.