News
Children of stars for permanent residence in America: how the heirs of Malysheva, Malinin, Varum and Ovsienko build their careers abroad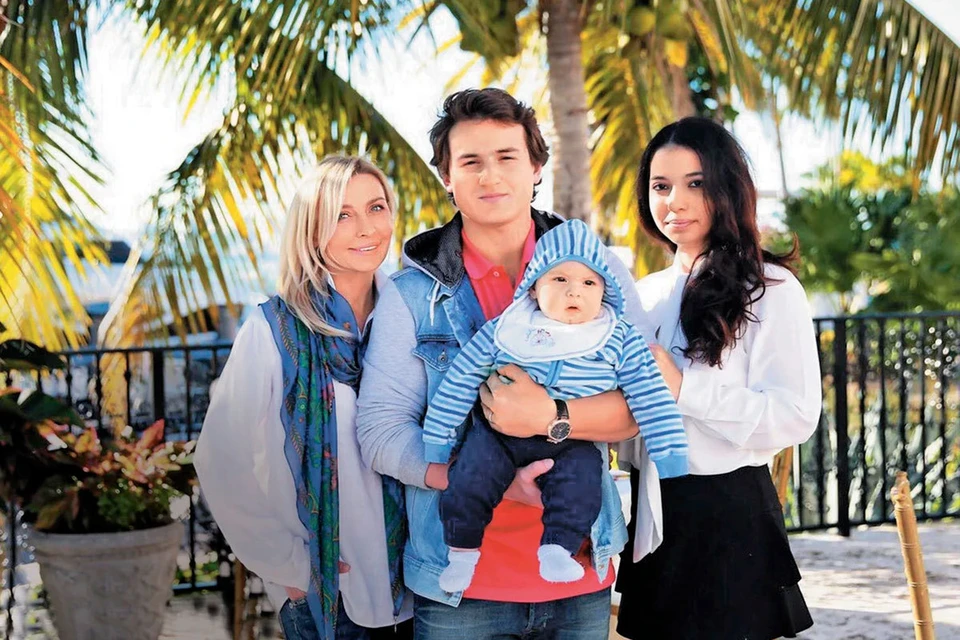 Tatyana Ovsienko with her son, grandson and daughter-in-law in Miami.
A photo: social networks
Many stars are unable to meet for family dinners with their children and grandchildren over the weekend because they live abroad. Artists whose children live in the US often see each other once or twice a year. We tell what the heirs of Russian celebrities do in America.
Daughter of Alexander Malinin
What happened: From the second marriage, Alexander Malinin has a daughter, Kira. Her mother, singer Olga Zarubina, divorced Malinin with a scandal and the ex-spouses still have not reconciled. The singer did not participate in raising his daughter. In 1991, Olga Zarubina moved to the United States with her second husband, Vladimir Evdokimov, who raised Kira. The girl found out who her real father was only at the age of 13. In Seattle, Zarubina worked in her specialty – first as a nurse, and then became a medical translator. In 2007, Zarubina returned to her homeland, as she was invited to participate in the show "You are a superstar!". After the death of Evdokimov in 2008, Olga Zarubina finally returned to Moscow. And her daughter Kira Evdokimova remained to live in the United States. Before the pandemic, our stars and their relatives were making a decent living from scandalous personal stories that were voiced on talk shows, often embellished with non-existent facts – this went on for about a decade. Zarubina and her daughter were no exceptions – Kira was paid for the trip from the United States to film scandalous talk shows where there was a showdown with her father Alexander Malinin. Kira's desire to meet her biological father under the guns of video cameras turned into a series of humiliations and scandals – relations with Malinin did not improve. The daughter of Malinina and Zarubina went to live in the USA. Kira was treated for depression after these family scandals. The daughter of musicians graduated from college, was going to design clothes and hats. Alexander Malinin paid Kira for hairdressing courses, after which she began working in a beauty salon. But Kira dropped out of school.

Alexander Malinin with his daughter Kira.
A photo: social networks
What now: 37-year-old Kira has lost almost 15 kg in a year and looks great. It is thanks to love that the daughter of Malinin and Zarubina met the man of her dreams and has already moved to live with him. The couple is planning a wedding. Kira is going to marry an American farmer in 2022, lives in his house in the mountains, and Olga Zarubina dreams of visiting her daughter in the near future. Kira Evdokimova is a fashion designer.

Now Kira has lost weight and is going to marry an American farmer.
A photo: social networks
Sons of Elena Malysheva
What happened: The sons of TV presenter, Doctor of Medical Sciences Elena Malysheva and her scientist husband, Professor Igor Malyshev live in the USA. The eldest son Yuri Malyshev many years ago worked as a creative producer of the program "Live is great!", Which is produced by his mother's production. Yuri was first educated in Moscow – he completed his residency in surgery; then he moved to New York, where he completed his residency and became the best resident chief of the hospital in New York. The youngest son of the Malyshevs, Vasily, studied at the law academy in Russia, then left for the United States, where he graduated from law school. Vasily and Yuri live and build their careers in New York with Russian wives. Yuri has three children: 7-year-old Igor, 4-year-old Arthur, 2-year-old Anna.

The sons of Elena Malysheva – Vasily (left) and Yuri. Photo: frame of Channel One.
What now: The eldest son of the TV doctor lives in New York with his family in his own house, and the youngest lives in an apartment. 34-year-old Yuri works at the largest medical center in New York – Maimonides, in Brooklyn: it is both a multidisciplinary hospital and an academic training center, where cardiologist Malyshev continues to improve his skills in cardiac surgery. The average annual salary of a qualified cardiologist in New York is $360,000 (21 million rubles). 31-year-old Vasily is a lawyer, he recently got married – so far there are no children in this family. Elena Malysheva periodically flies to New York to visit her children and nurse her grandchildren.
Daughter of Angelica Varum
What happened: The only daughter of singer Angelica Varum and the youngest daughter of musician Leonid Agutin has been living in the United States since a young age. Elizabeth was brought up in America by Varum's parents. While the girl's parents built a career in their homeland and toured a lot, she grew up: she lived and studied in America under the strict upbringing of her grandparents. Even in her school years, Elizabeth organized her own rock band and studied music. Over the years, a hobby has grown into a profession and the main business of life.

Angelica Varum and Leonid Agutin with their daughter Elizabeth.
A photo: social networks
What now: 23-year-old Elizabeth in the United States lives with a guy who is also a musician. Angelica Varum told us in an interview: "Music for my daughter is the main thing in life. Every time I listen to her music, poetry, I feel a sense of pride. Lisa is recording new material, performing in clubs. During the pandemic, when the main work was small, she worked part-time in one family: she cooked lunches and dinners for them. Daughter Varum also inherited a culinary talent from her mother – from a young age she cooks well and tasty, so she will not remain hungry in any case. The girl does not beg for money from her parents – gifts are given to her mainly related to equipping her music studio, and Lisa is provided with housing in the USA. By the way, the full name of the star heiress is Elizabeth-Maria Varum-Agutina. Parents periodically visit their daughter.
Son of Tatiana Ovsienko
What happened: 23 years ago, singer Tatyana Ovsienko adopted a boy from Penza. In this city, she was on tour and received a note at the concert – to bring fruit to the Baby House. Ovsienko bought gifts and went to the Baby House, where she noticed a two-year-old baby – he was incredibly pale and was sitting in a corner with an algebra textbook turned upside down. It turned out that the mother abandoned the child due to a congenital heart disease – a complex operation that was not done in Penza could save the baby. Ovsienko in Moscow agreed with a professor who performed the operation and saved the child. The singer adopted Igor and raised her as her own son. The guy learned from a classmate at school that he was adopted – he reacted calmly. Igor loves his mother very much – Tatyana Ovsienko. When a couple of years ago, on a talk show, his own mother was found in Penza, who abandoned the child, Igor did not want to know anything about this woman. Tatyana Ovsienko emphasizes: "It was God who gave it to me so that I would become a happy mother …"

Ovsienko with little Igor, whom she took from the Baby House.
A photo: social networks
What now: Tatyana Ovsienko, 55, communicates daily via video link with her 26-year-old son Igor, who lives in Miami. Igor left for the USA while still in high school, since his adoptive father, ex-husband Ovsienko, moved there. Igor was adopted by the singer Ovsienko together with her husband, producer Vladimir Dubovitsky. Igor graduated from the College of Economics and recently completed his studies at the university. The guy already has his own family – Brazilian wife Zaia and 7-year-old son Alexander. Tatyana Ovsienko is the godmother of her grandson. Ovsienko does not see his son's family often – once every two years: "I am in touch with them daily via Skype, but I really want to see each other, to cuddle my grandson."
Stepdaughter of Ivan Urgant
What happened: The stepdaughter of TV presenter Ivan Urgant is studying in America. The daughter of screen star wife Eric Kutalia lives in New York. The daughter of Natalia Kiknadze is studying "contemporary art and photography" at the fashion design school Parsons. A year of study here costs about three million rubles a year. The girl is paid for an apartment near the place of study – in Manhattan.

Ivan Urgant with his stepdaughter Erica.
A photo: social networks
What it is now: 22-year-old Erika leads an active life: loves vintage boutiques and vegetarian dishes; fond of fashion; walks in the company of fashion editors of glossy magazines and designers. Erica has a hobby – she is a reseller: she finds and buys vintage items, which she then sells at a bargain price on international platforms. Erica invests the funds from these resales in her own wardrobe. Previously, the student lived with her boyfriend – but the couple broke up a long time ago. Erica plans a career in the American fashion industry.

This is what future fashion designer Erika Kutalia looks like now.
A photo: social networks