News
Briton abandoned Ukrainian refugee because of her alcoholism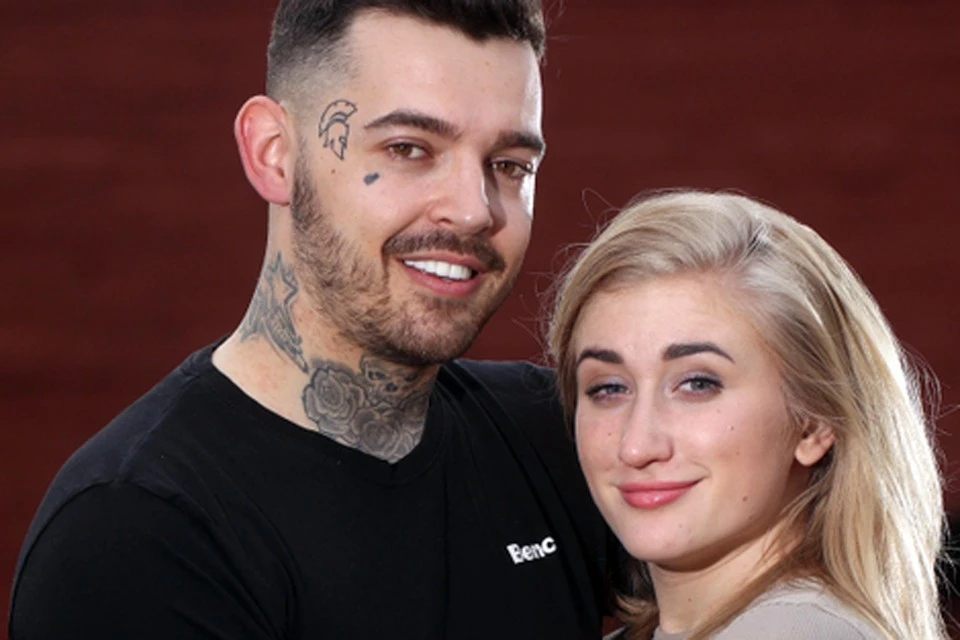 In May, English housewives shed tears when they read in the tabloids a story about how a 30-year-old Briton left his wife and children for Ukrainian blonde Sophia Karkadym.
A photo: social network
The romance of a 22-year-old Ukrainian refugee and a British security guard in the spring inspired the whole world. Them love story replicated by the media, and she was worthy of a Hollywood movie! But the passionate passion for the garne maiden turned out to be a bitter disappointment for the Briton. Four months later, the couple broke up and the reason is more than comical: Tony Garnett accused Ukrainian sweetheart in alcoholism and aggression.
"FEEL THE CONNECTION"
In May, English housewives shed tears as they read in the tabloids a story about how a 30-year-old Briton left his wife and children for a Ukrainian blonde Sofia Karkadym. After February 24, the girl fled from Lviv to Berlin, and from there, under the state program of the British government, she moved to Bradford, West Yorkshire.
Garnett, along with his civil wife Lorna, applied for participation in the Ukrainian refugee program in April and very quickly became Sophia's sponsors. A week later, a Ukrainian woman moved into their house – on Mount Lorne and, to Tony's happiness.
"It all started with my simple desire to do the right thing and give a roof over the head to a person in need," Garnett admitted then. – The climax came when Lorna went to Sophia and started screaming at her, making her cry. She said that Sophia could no longer stay under our roof, and then something inside me clicked. Then I felt a connection with Sophia that I didn't have before.
ON THE SAME WAVE
22-year-old Sofia, in an interview with reporters, only smiled and added: "things like that happen."
– As soon as I saw him, I immediately liked him, – the Ukrainian said. – It happened very quickly, but this is our love story. I know that people will think badly of me, but it happens.
The girl in an interview with KP admitted that she specifically chose peer sponsors in order to be on the same wavelength with them. But if Tony was delighted with Karkadym, then jealousy immediately spoke in Lorna.
The reason why the British rebelled two weeks after the settlement of Sofia is understandable. Together with Tony, they lived for 10 years, raised two children. And then her husband began to spend suspiciously a lot of time with a refugee: he goes to the gym with her, chatting tirelessly.
Lorna didn't like the fact that her husband spent several days with a Ukrainian woman when her eye ached (then the doctors found a rare infection in the girl and performed an operation). As a result, the British broke loose and ordered Sophia to get out of her house. But she could not even imagine that her husband would leave the house after the refugee. Together with Sophia, Anthony moved in with his parents.

Tony Garnett with ex-wife
A photo: social network
"SAVE HUNDREDS OF LIVES"
After the scandal, Tony and Sofia got their own love nest. By that point, Garnett had lost his job. The management of the medical center where he worked as a security guard felt that they did not need such a famous employee. Therefore, the couple decided to go into business and even planned to get married.
In August, in order to remain on everyone's lips, the Briton announced that he decided to contribute to the fight against the consequences of hostilities in Ukraine. He decided to collect 10 thousand pounds, so that he could personally take them to Ukraine and distribute them to those in need.
– After meeting with Sophia, I saw the full scale of what is happening and I think that people need my help. This is not a game. I have to use my influence to do the right thing," Garnett told reporters.
Tony and Sophia decided that it was they who could end the conflict and "save hundreds of lives."
But the salvation of the world was canceled – love came to an end.
"I CAN'T TOLER INSULTS"
For four months of living together, Tony was tired of the "irrational behavior" of his beloved.
"I can no longer tolerate her insults and anger," the man told reporters. – I did a lot to make this relationship work. I knew we'd be looked like assholes in the press if we broke up. Then I felt really sorry for her. She left her home and country, here she knew no one. Yes, I felt and thought that I was in love with her. But there is a side to her that I can no longer put up with. She is mean and aggressive.
The point of no return was reached on Tony's birthday when the couple had a fight. The angry girl grabbed a knife and, according to Garnett, stabbed the wall several times with it. After that, Tony kicked Sophia out of the house, and put her things in black garbage bags.
"I made a mistake by starting a relationship with Sophia," Anthony said, adding that he was concerned about his sweetheart's passion for alcohol. Now he has applied to the Ministry of Internal Affairs for the Ukrainian woman to be relocated to another sponsor.
Many are wondering if Garnett will return to his wife after this. But here a counter question arises: is Lorna ready to forgive her husband's betrayal? So far, the Briton has not given any comments to the media, but her friend has already appeared in the press: "I knew that this would end in disaster for them – I just didn't think it would happen in just four months."
ON AN INCLINE
Apparently, after a sudden break, Mademoiselle Karkadym went into all serious trouble. She has already been detained twice by the Brentford police for disruptive behavior. The last time she had to spend the night in a cell after she burst on the door of her ex-boyfriend's cottage, yelling at the whole neighborhood: "I love you, Tony!" But the man did not come out to her, but instead called the cops. In a short comment to the British tabloid Daily Mail, Sophia said: "My heart is broken. I have no home here, no money, no friends. And I have to spend the night in some disgusting places. The police have already warned the native of Lvov that if she tries to talk to Tony even on the phone again, she will face a more serious prison sentence.