News
Borders of madness: A queue of 100 kilometers, food on a fire, water from the river, and "deserters!" are yelling in the back!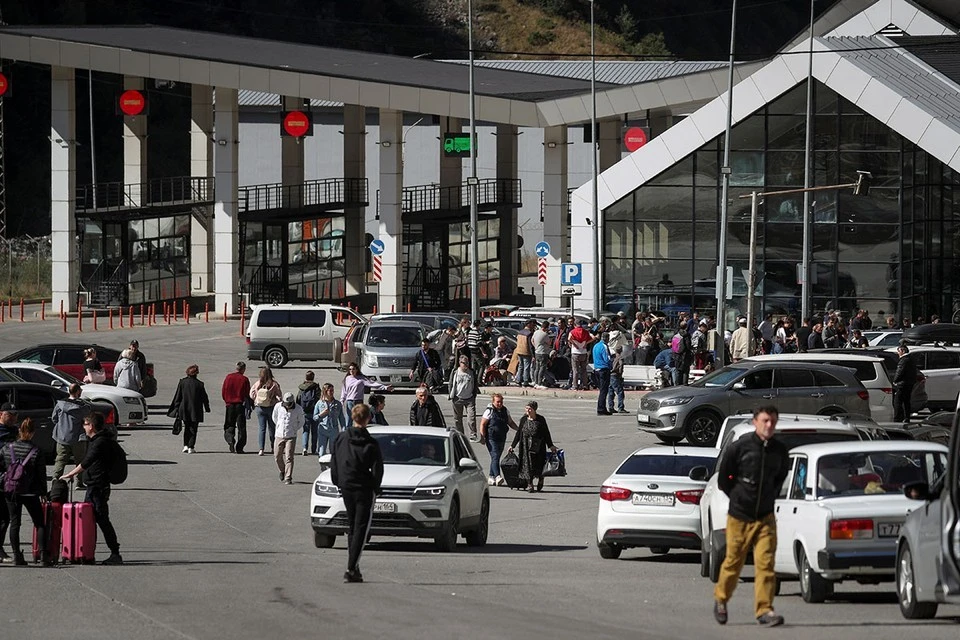 Chats on social networks, where people share information and their experience on crossing the border, are simply torn
A photo: REUTERS
After the announcement of the beginning of partial mobilization, thousands of people suddenly ran. From the country. Moreover, many of them do not understand at all whether they will be called or not. But just in case, let's go. Some have already received summons (not even about mobilization, but only about the appearance to clarify the data) and ran even faster, just not in the direction of the military registration and enlistment office …
Prices for air tickets abroad rose instantly, and dozens of times and to ALL possible destinations. The Russians learned that there are cities like Urgench in Uzbekistan. We sorted out places in Iranian Tehran, Tajik Dushanbe, Istanbul, Dubai, Osh (a city in Kazakhstan), Yerevan …
And those who did not have enough money for tickets decided to storm the land borders. But here the choice is much less. It is pointless to go to Belarus, there is a dead end in terms of going further. Therefore, everything is calm on the Belarusian border. What can not be said about the borders with Georgia and Kazakhstan.
Here comes the drama and comedy.
GEORGIA
On the only crossing to Georgia – Upper Lars, already on September 21, the time for crossing the border was estimated at 15 – 20 hours. The next day – two days, the next day – three. And everyone who is standing there now does not understand whether they will pass the border by the New Year.
SCOOTERS FOR THE PRICE OF A CAR
The nearest Russian city to Upper Lars is Vladikavkaz. A little further – Minvody. This is where hell begins. Chats on social networks, where people share information and their experience on crossing the border, are simply torn. Here and panic: "Everything is lost, the border is closed." And advice – moaning: "Help, there is nothing to eat, the gasoline is over." And buying and selling: bicycles with scooters for the price of a car (the rules of Upper Lars – you can't cross the border on foot, but you can use any transport).
Previously, there were regular buses, minibuses, taxis. But from September 21, all this well-established border life went to hell. The excitement is hellish.
We read the chats of the fugitives stuck at the Upper Lars.
"Three days ago the bike cost 5,000 rubles. Today already 40.000. The locals got out of the garages still old, Soviet. Hastily mend somehow and sell. But do not think that you will get there on this. There are mountains."
"Scooters are sold in a hot dog stand near the border."
"Scooters are no longer allowed. You can ride a bike, but they are no longer in stores in Vladik.
"Desperate people leave their cars and walk. For understanding, the border is in the mountains. Walk 30 kilometers. It's cold there. Very much at night. There are no warm clothes. There is no water. There is no food. They don't let you get in the car for free."
NUTBUK FOR A SIP OF WATER
In chats, they write that on the way, such desperate people exchange laptops and phones for a sip of water. They throw off unnecessary things, it's hard to drag, right on the road or into a ditch. In the border strip there are no places where to warm up, or go to the toilet, or drink, or charge the phone. Closer to the checkpoint, all these desperate people are trying to fit into at least some kind of transport.
Here is the message from September 24th and 25th:
"Local taxi drivers charge 15-20 thousand rubles for a seat in a car. There are thieves who have their own at the border, they transport quickly and for 40 thousand per person. There's a whole business right now."
"Mine have all passed. But with adventure. One walked 15 km with a suitcase. The second one was on a regular bus for two days. The third one – for 30 thousand drivers, plus 5 thousand for traffic cops – traveled on Gelika along mountain roads.
"My husband flew from St. Petersburg to Vladikavkaz. We have already read about these queues in chats. All airlines take bicycles in luggage. He took our old one out of the garage. I took with me only a backpack and ropes to tie it to the trunk. Water, thermal underwear, foam and a burner in case you have to spend the night outside. I had to drive 30 km. Ups and downs. Difficult. It's good that my husband is athletic."
Experienced already from Georgia write bad advice:
"Buy high-calorie convenient meals, like protein bars. Dress and wear comfortable and warm clothing."
"Guys and girls who have a problem with the fact that when they walk a lot – it rubs between their legs – buy yourself a cream with panthenol to immediately smear. I almost rubbed myself to the bone, because I was the one who went from the end of the traffic jam on Lars to the checkpoint 12 km.
LEFT PACK OF COOKIES, READY TO DRINK FROM THE RIVER
Who pulled on their cars are not lucky even once. More difficulties awaited them. And they, sitting in traffic jams for several days, began to quietly hate pedestrians who somehow managed to overcome the border in 30 hours.
"Do you think the queue is only at the border? Not! In addition to traffic jams at the checkpoint, there are kilometer-long queues in front of each traffic police post. Posts are changing. The price tag for passing through them is growing every day. Many locals offer to smuggle around the post, take a lot of money, but then you just bump into the next post."
On September 26, the traffic jam to Vladikavkaz was already 100 kilometers away!
And the closer to the border, the more passions escalate.
"Good thing I filled the tank full. The dude in the wheelbarrow ahead didn't think of it. Already twice walked to the gas station — there and back 5 km. Yes, and with five-liter bottles. But these 10 liters in the mountains are nothing. I don't know how long he has to run."
In the shops closest to the line, food and water have risen in price tenfold. And everyone is missing.
"We stocked up on the way to the supermarket. Sliced ​​food, bananas, bread… We counted on two days. We are already on the fourth. There was a packet of cookies left. Water 3 liters. If anything, I'm ready to drink from the river. We already regretted that we didn't take a pot with us to cook on a fire."
"We stood for 40 hours from Vladikavkaz to the Georgian checkpoint. At the end of the traffic jam, it already comes to a tin, the 15th region (North Ossetia. – Ed.) Rolls into direct threats for refusing to give way. "
"THE THREE DAYS CHANGED MY LIFE!"
On September 26, there were changes in the hell near Upper Lars. A Russian armored personnel carrier arrived here with the military. Tbilisi is tense. In Vladikavkaz, they explained – to maintain order and to avoid breaking through the border.
And only after that the Georgians allowed the Russians to cross the border on foot. But instead of relief, the disaster intensified! People started leaving cars. Naturally. Roll them to the side of the road, close them, and then on foot. As a result, the capacity of the border slowed down even more.
Dealers immediately appeared, ready to pick up a car for three kopecks. Or for 100,000 drive to the parking lot in Vladikavkaz until better times. Purely on trust. There are reports that expensive Mercedes were sold for 500,000. Those who wished were found. So motorists have become pedestrians.
"We didn't eat, drink or sleep for three days. We spent all the money to cross the border. We were kept outside in the cold for days. People are yelling and fighting. We drank dirty water, which we begged from truckers. Ossetians yelled at the back that we were cowards and women. Those three days changed my life."
More posts:
"The complete absence of toilets, trash cans. Food delivery from 15.000 in traffic. Gasoline was bought yesterday for 2,000 – 5 liters.
But having broken through the Russian checkpoint on foot or by car, no one breathes a sigh of relief. Further the neutral zone – 4 kilometers in the gorge. I've been there, it's just a narrow road between the mountains. There's nothing. Generally. But today it is packed with people and cars.
Here is Wednesday morning's message:
"In the neutral zone – a humanitarian catastrophe. People sleep on stones, freeze. Many do not have water or food. Some people can't wait in line. We stood all night. Please, help."
INSTEAD OF A TRIP – AGENDA
But the most desperate fiasco was waiting for the turn of the fugitives
the next day after the arrival of the APC. A minibus "Military commandant's office" was driven to the border. With lists subject to partial mobilization.
And the chat of Upper Lars exploded with a cry:
"Bitch! They just handed me a summons at the border. I've been here for 4 days…
KAZAKHSTAN
There is not 1 checkpoint between Russia and Kazakhstan, unlike Georgia. There are as many as 30 of them. Therefore, many more people rushed here. And the further east the checkpoint, the calmer. It just takes longer to get there from the European part of Russia. But in the Samara, Saratov, Astrakhan regions – a complete akhtung.
"TAXI DRIVERS IN THE WEEK IN THE APARTMENT EARNED ON US"
– September 25 at 6 am we drove up to the border traffic jam near the village of Ozinki. We got to Kazakhstan at 3 am on the 27th. That is 45 hours, – says my friend. – From bottom 16 in no man's land. There was everything: panic, and despair, and an attack with knives. At some point, I was ready to leave the car and go on foot. Seriously considered this option. And we got off lightly, we could still stand. I just cut off in two places, driving across the steppe.
Narrow track. The oncoming and curbs are clogged.
But here the steppe is all around, in contrast to Upper Lars, which is sandwiched by mountains. This is both a plus and a minus.
– Taxi drivers and enterprising Kazakhs have already earned apartments in this queue, – says my friend. – Some are dangling back and forth across the border, planting pedestrians from the Russian side. Taxi 30.000 – 40.000 rubles. Others trade places in line. Still others have adapted to carry people past the line across the steppe. True, this loophole quickly ceased to be exclusive, they hit the road, now you won't get lost. So everyone rushed along it without their help. But only after a day of standing in line, you begin to understand this cuisine. And at first we tried to restore order here, blocked the oncoming lane so that we would not go past the queue. They called the police.
– AND?
– You almost got yourself robbed! "Reshals" jumped out at us with a knife. They launched a stone into the windshield. Well, not broken, only a crack.
"THE WERE LET UP TO WARM IN THE TENTS"
Pedestrians. There aren't many of them here either. People from the nearest large cities take a taxi to the beginning of the queue, and then on foot. 10, 15, 25 kilometers. Then checkpoint. There is another separate line. Lucky for those who made it before dark.
"When I approached the checkpoint, I thought that the worst was over. No, it was ahead. I never thought that it was so cold in the steppe at night. Ice wind. Two people in line had tents with them, they let them warm up."
Volunteer patrols have already formed at some checkpoints. Mostly Kazakhs. They feed and drink.
"If not for this food, I would have died. Thank you kind people."
About the hospitality of the Kazakhs in chats they write different things.
Someone helps the fugitives. In Uralsk, the city closest to the border with Russia, they are allowed to spend the night in a cinema dedicated specifically for this. Because there are no places in hotels.
But other locals are not happy with ours at all.
– There were cars with Kazakh numbers in the queue with us. And they cursed us all the way. They shouted that because of us, the deviationists, there was a queue. They demanded to let them go. Then, when we got to Kazakhstan, the first people who met us were traffic cops. They began to come up with some kind of violation, then they simply turned off the video recorder and said that it was possible to negotiate. As a result, they gave 10,000 rubles. After another 100 kilometers, history repeated itself.
And here is what my other friends who are now in the city of Aktau say.
We're not welcome here, to be honest. Strain with housing, and from the windows of cars they shout: "Deserters!"