News
At all meetings we talk about the restoration of Ukraine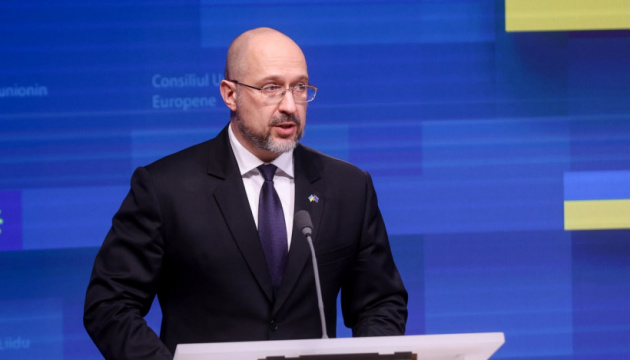 During all the negotiations in New York, the Ukrainian side raised the issue of creating mechanisms to compensate for the damage caused to Ukraine from the Russian war.
Prime Minister of Ukraine Denys Shmyhal told reporters about this on Thursday, an Ukrinform correspondent reports.
"At all meetings, we talk about the restoration of Ukraine – first of all, for survival during this winter period, during the entire wartime, and also after the war," he said.
According to him, such work "would cost hundreds of billions of dollars."
"We emphasize that the aggressor must compensate for Ukraine's losses, and the frozen Russian assets, as far as we know, are estimated at between $300 and $500 billion," Shmyhal said.
He recalled that Canada had already adopted a law at the national level to confiscate the assets of the Russian state and Russian oligarchs in favor of Ukraine for future recovery.
"We also urge to use this example, to adopt legislation, possibly at the international level, which will become a new element of global security, since the aggressor will understand that he will pay for his unprovoked aggression," the head of government explained.
Getting Russian assets is a key idea for Ukraine's future recovery, he stressed.
"If they do not want to give them away voluntarily, then the countries must make appropriate decisions and confiscate them," Shmyhal said.
According to him, the proposals of the Rasmussen-Yermak Kyiv Security Treaty were also discussed at the talks. We are talking about "the rapid reaction of our partners regarding the provision of weapons, financial support, the introduction of the full range of sanctions against a future aggressor," he recalled, stressing that such an agreement could serve as a precedent for building a security system after the war.
As reported, on September 20-26, a high-level week is held in New York within the framework of the 77th session of the UN General Assembly, where leaders of states, heads of government, heads of foreign affairs departments of member countries speak. Shmyhal, President's wife Olena Zelinska and Prosecutor General of Ukraine Andriy Kostin take part in a number of events on the sidelines of the General Assembly.
Photo: CMU