News
Andrey Zhuravko died as a result of an attack on the Play Hotel in Kherson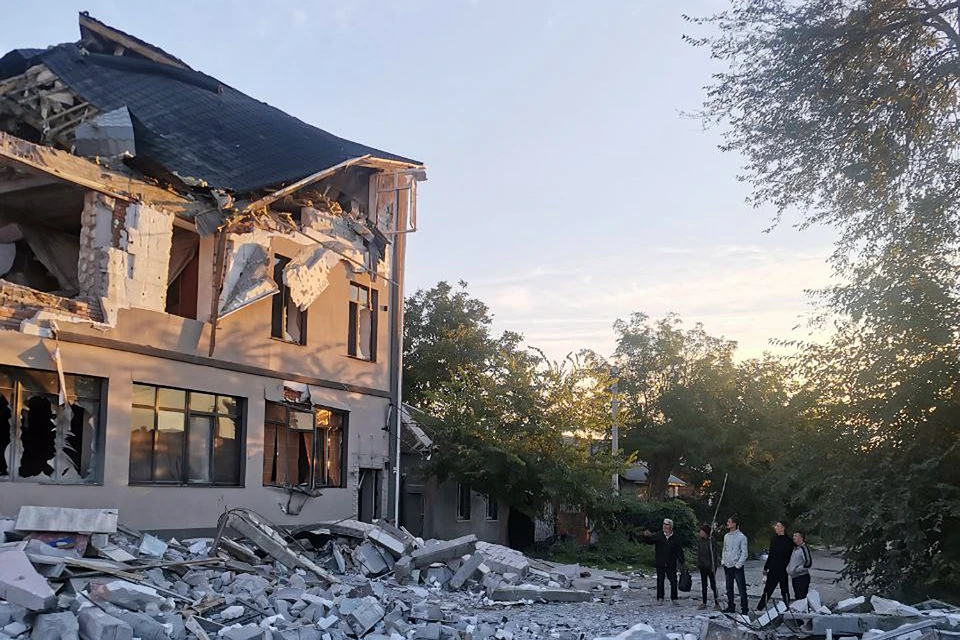 The owners of the Play Hotel, destroyed by the Hymars impact, are discussing what to do with this grief.
A photo: Igor EMELYANOV
In the morning, when a group of Russian reporters were preparing to leave for the front-line Aleksandrovka and Snigiri, someone brought the news that it was still dark when they arrived at the Play hotel. It was located near the Central Market and it was there that a group of our colleagues from RT, led by Murad Gadziev, was based. The initial information that one of them was under the rubble, later, unfortunately, was confirmed. But after a couple of hours we exhaled – no one was hurt. The operator, though filled up, but he was able to get out. Footage of his miraculous escape appeared on telegram. Later, in full force, the journalist took part in the first attempts to find people under the rubble.
But, alas, there were no casualties. According to the information available during the day, two people were killed during the shelling – a former deputy of the Verkhovna Rada of two convocations Andrei Zhuravko, a member of the Party of Regions and a disabled person from birth, and his bodyguard.
The blow was delivered from the American MLRS HIMARS.
Already in the evening, at the already demolished building of the former hotel, several people who were related to the management of the hotel were finishing their inspection and discussing what to do next. They refused to answer your correspondent's questions, saying "well, it's definitely not today."

The blast wave threw the mattresses out of the rooms
A photo: Igor EMELYANOV
Of course, they can be understood by looking at what the once very decent hotel has turned into, under the ruins of which two people died.
But the tragic incident became the main news of the day for the local children. A guy of about 15 years old with his sister, 5 years younger, looked at the ruins of the building with some unhealthy curiosity.
– Look, the camera seems to have survived, – the teenager was surprised.
– And the corpses have been removed already? It's a pity, it's not so interesting, – answered the sister.
They vividly discussed why no one had miraculously removed the beige curtains that had survived, and what else could have been preserved inside after such a terrible blow.

Those who hit the sleeping hotel with civilians do not want Russia to be here and to be safe and stable.
A photo: Igor EMELYANOV
The death of people did not seem to cause regret in them. Apparently, they got used to it after 8 months of shelling by Ukrainian artillery.
Two workers, who manually dragged the apparently heavy debris, said that they were tasked with clearing the area at the entrance and that they should not interfere.
Rare cars slowed down – to go around the wreckage and examine the destruction. Not the first and, it seems, not the last in Kherson…