News
Alla Pugacheva's neighbors in the village of Gryaz are selling their houses from 10 to 140 million rubles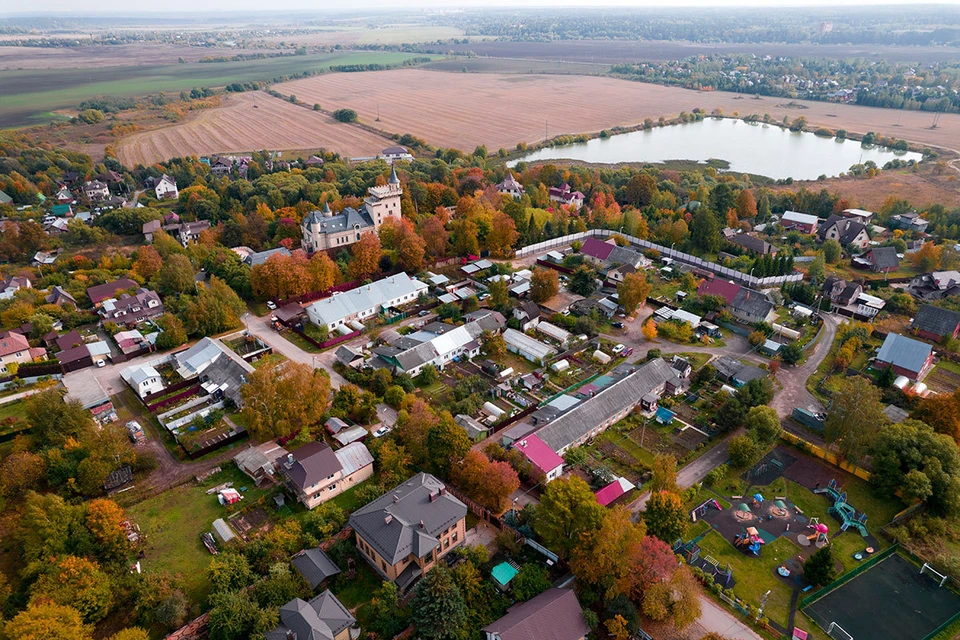 The journalists visited the quiet village of Gryaz, where Alla Pugacheva is selling her mansion.
A photo: Ivan MAKEEV
Realtors almost every day began to visit the village of Gryaz near Moscow, but not because of the sale of the house Alla Pugacheva and a foreign agent Maxim Galkin* who left Russia. Chic mansions and simple one-story houses began to be sold by the neighbors of the star couple.

The village of Gryaz is a quiet place 40 km from the Moscow Ring Road.
A photo: Ivan MAKEEV
"The village was quiet until the palaces were built"
The journey from Moscow to the village of Gryaz takes about one hour, if there are no traffic jams. It is part of the Odintsovo urban district. For the first time, the village of Gryaz was mentioned in ancient scriptures in 1592, and since 2011, it has been in the gossip column almost every month because of new residents – TV presenter Maxim Galkin * built his family nest here, where he came to live with his wife Alla Pugacheva. The couple soon had two children.
– We saw Pugacheva. She can say hello and move on. She never spoke to us commoners. And what should we talk about? Discuss the price of a communal apartment or a delay in the store? – He speaks local resident Nicholas.

Village bulletin board
A photo: Alice TITKO
Recently, no one has seen the star at all. For walks, if she went out with children, a nanny and security guards, then not for long. On the only playground in the village they were seen once.
– This site, as I understand it, was built for Alla's money. You see, journalists and photographers often come. And she also wants to take a quiet walk, but outside her site it is no longer possible. In general, our village was quiet. What kind of journalists are there? And such palaces were not built before. Now we often see both government cars and helicopters. Who are all these people? We only communicate with our own, who have been living for a long time, – says Nikolai.

The only playground in the village
A photo: Ivan MAKEEV
"Where is Pugachev – they don't know"
The village of Gryaz is not at all like the Rublev settlements, where one house is cooler than the other, everything is built clearly in zones, the lawn is always well-groomed. Mud is a village of contrasts.

Shop "Thousand little things" with garden tools.
A photo: Ivan MAKEEV
At the entrance there is an ordinary village shop "1000 little things" with shovels and garden seedlings. There is also a grocery "Avocado", where you can buy bread, milk and cookies by weight.
– Someone will come for a bottle, someone for ice cream. We don't have a supermarket here. Despite the name, we do not sell avocados and shrimp, – says seller Alena.
– Have you seen Alla Pugacheva for a long time?
– For a long time. I see more journalists.
The village is open for entry – there is no barrier and no access system. Immediately behind the store there is a bright playground with swings, a stand with announcements is also installed here. Locals leave here information on where to buy homemade eggs, ask for help finding a kitten and invite them to the "For a cup of tea" gatherings. Nearby is another stand – about the years of the war, how in December 1941 the village of Gryaz was captured by the infantry division of the upper mat. Then, out of 52 village houses, 12 were burned.

Deli "Avocado"
A photo: Ivan MAKEEV
– Are your chickens? – we ask the man.
– Yes, mine. They won't run far. Galkin * won what a high fence has become, all in cells. They also bought land, and fenced everything, – says resident Michael.
We notice the guards near the house of Alla Pugacheva and Maxim Galkin *, or did they notice us and leave?
– Is it true that Pugacheva left? – we ask.
– We don't know.
– Is the house for sale?
– Pass (past).

Local residents breed chickens near the "castle" of Galkin-Pugacheva.
A photo: Ivan MAKEEV
"Who wants to live in Galkin's house *"
The castle of Galkin * and Pugacheva is the most unusual in the village of Gryaz. Realtors say it's bad in terms of resale.
– When I had a dacha in a neighboring village, I often drove past the castle. A peculiar building, not very fashionable architecture. If they decide to sell it, then the house is an amateur. I don't know if there is a person on planet Earth who wants to live in it. Rather, it is architecture for people over 70 years old, – said a realtor near Moscow Alina Pravotorina.

The courtyards of the village have their own atmosphere.
A photo: Ivan MAKEEV
Maybe the fans will?
– It is unlikely that Pugacheva's fans have money for such a house. I don't think it's possible to sell it. Only acquaintances who have been there, or let relatives live. In addition, if we consider not a house, but a plot, then I would not say that in the village of Gryaz there is some special nature, there is a small pond, but everything around is unkempt, overgrown.

Not far from the village is a small pond.
A photo: Ivan MAKEEV
However, the locals who have built mansions here say they wanted peace, a place away from Moscow, and prices that were cheaper than on Rublyovka. Officially, about 130 people live in Gryazi. The place is really quiet. But after living here for several years, people decided to sell the houses. Now more than 18 cottages and mansions, as well as simple village houses, are listed on real estate sites – the cost is from 10 to 140 million rubles.

Luxurious houses are being sold in the village.
A photo: Ivan MAKEEV
– This house is for sale because the owners decided to leave Russia. They built for themselves, but the situation in the country has changed. On 35 acres they built a three-story red mansion with an area of ​​322 square meters. On the territory there is also a guest house and a swimming pool. They ask for 87 million rubles, but bargaining is possible, – says realtor Sergei.

A mansion with a well-groomed garden – 120 million.
The snow-white mansion is being sold for 120 million rubles – 470 square meters. With a semicircular balcony, and a luxurious garden. Behind the main house there is also a guest wooden house with a swimming pool, private sauna, gym and a tea room with a fireplace.
– Why are they selling?
– The family has a main house, several dachas. That is, it is not the main residence. But at the present time they want to sell real estate, now it is better to have money, – says the realtor.
Will the furniture be left inside?
– Partially something will be taken away, but mostly left. The renovation is very good. Interior details were brought from abroad, now a lot of things are not available.

The wrecked house is on sale for 10.5 million.
Old houses are also being sold, but not because rich neighbors are forcing them to move out, but simply because they need to get rid of property in a deplorable state.
– House for 10.5 million only for demolition. Everything is old: floors, communications. In fact, it's better to look at the object as if it were land, but it's not suitable for building a large cottage – the land is only 18 acres, – says realtor Sergey.

Dirt – a village of contrasts
A photo: Ivan MAKEEV
Country real estate, according to realtors, sells much better 10 kilometers from the Moscow Ring Road. The village of Gryaz is already 40 km away, although you can quickly get to the capital along the Novorizhskoye highway.
– The village of Gryaz has not yet become an elite village for many years, and all because it was an ordinary village, with ordinary residents. And many who come here for the first time do not understand what is the phenomenon of the village of Mud. Yes, Alla Pugacheva lives here. Yes, Nikolina Gora is nearby, where Nikita Mikhalkov, Yuri Bashmet, and the family of Alexander Malinin live. Near Zvenigorod. But Mud, despite its wealthy tenants, is not yet associated with an elite area, – said realtor Alina Pravotorina near Moscow.
*recognized as a foreign agent in the Russian Federation