News
Alla Pugacheva helped pay for the funeral of Boris Moiseev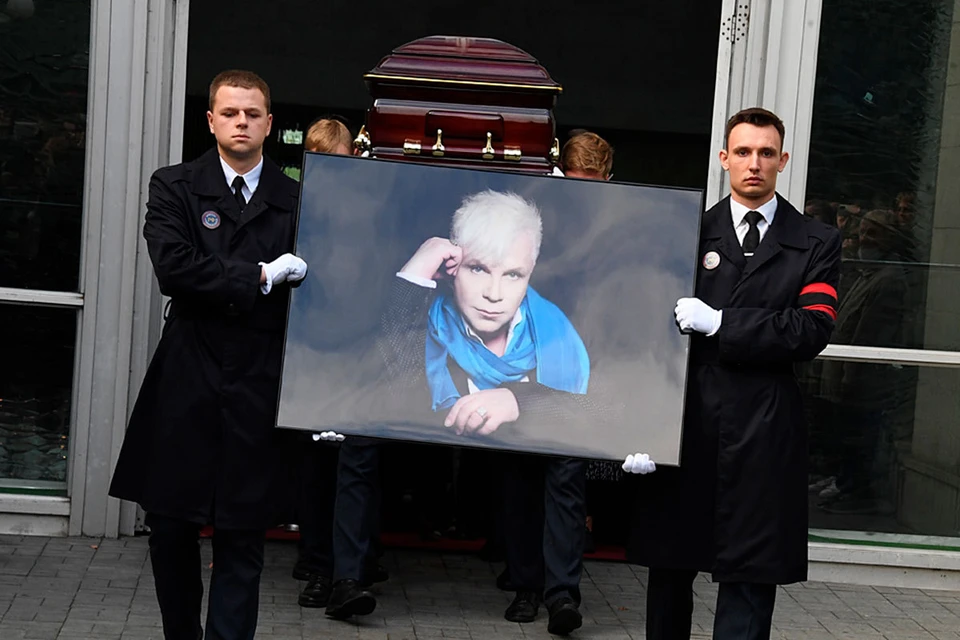 On October 2, the singer Boris Moiseev was buried
A photo: Mikhail FROLOV
Bury Boris Moiseevas is often the case in show business, a huge crowd of reporters gathered. The excitement at the Troekurovsky cemeterywhere hundreds of eyes were waiting for famous artists, turned out to be so high that the grandmothers passing by kept wondering: where, they say, is such a line standing, who is the last one?
– You still have a hard job, – workers of ritual services sympathized with the reporters scurrying back and forth. – Not like ours. Today we are standing here at the entrance, this is, consider, a day off. Sometimes, of course, you have to carry the coffin. But what beautiful photos are obtained. If one of the famous dies, it happens, and they show it on TV. And it's like that everywhere on the Internet. Who are you running after? We don't know anyone!

Sisters Zatseva
A photo: Mikhail FROLOV
However, it is not surprising: the first to say goodbye to Moiseev were the forgotten stars of the nineties and zero: the former soloist of the Na-Na group Pavel Sokolov, Igor Nadzhiev, the Zaitsev sisters, Nikolai Trubach, Alena Apina, unrecognizable in a voluminous down jacket Klara Novikova and the talkative ex-director of the group "Tatu" Leonid Dzyunik, who, after a bunch of questions, was certainly asked to introduce himself…

Sergey Penkin
A photo: Mikhail FROLOV
LAST SONG
Later, the first stars also pulled up: Philip Kirkorov, Nikolai Baskov, Nadezhda Babkina, Lolita, Alsou, Alexander Buinov, Sergei Penkin, Nelli Kobzon. But most of the artists, as one, refused to speak to the cameras. The king of pop explained for everyone, and the truth turned out to be harsh: in recent years, almost none of the colleagues with Moiseev, who was broken by two strokes, did not communicate. Concerts, tours, coronacrisis, sanctions – everyone has their own life. Meanwhile, the artist overtook the third and last stroke.

Alena Apina
A photo: Mikhail FROLOV
– We were connected by almost 40 years of friendship. I'm a sinner, Borya, I didn't pay attention to you, I didn't give it enough, "the king of pop admitted at the coffin. "I can't forgive myself for not visiting you in recent years. And you were very lonely.
Boris Moiseev, as you know, had no wives and children. Of all the relatives, only Older brother Yes, nephews scattered around the world. Who is in Canada, who is in Israel, who is in Germany. None of them came to say goodbye to the artist.

Nikolay Baskov
A photo: Mikhail FROLOV
It turned out that the unknown singer and producer Alisher knew the most about the last months of the life of a seriously ill artist.
– When I had a crazy idea to record a duet with Boris Mikhailovich, he was already very bad after two strokes, – said the Rotterdam duet partner in his farewell speech. – I called its director Sergei Gorokh, asked: "Can I?". "Yes, you can. But how to do it – think for yourself." As a result, we came home to Boris Mikhailovich, brought him a cake – he, like a child, adored sweets. His appearance was depressing: he was sitting at the computer, clapping something on the keyboard, flipping through the clips, without even watching them. On two iPhones, we somehow recorded individual words, tormented him for three sets of 15 minutes. We received a set of letters, syllables, words, which then for a week were collected bit by bit into something sane. And we succeeded. In the last song of Moiseev, a young, healthy, cool artist sounds.

Nadezhda Babkina
A photo: Mikhail FROLOV
"AN INVESTIGATION IS ON"
All the funeral chores were taken over by the director and closest friend of Moiseev Sergey Gorokh, who even after the end of the concert activity remained nearby. He brought food, medicine, protected the sick singer from the attention of the press. As Lolita noted, if not for Peas, Moiseev would have had to be buried much earlier. And everyone present unconditionally agreed with this.

Sergey Drobotenko
A photo: Mikhail FROLOV
However, another version is being discussed in the media: allegedly, Gorokh deliberately isolated Boris Moiseev from friends and colleagues in order to take his apartment in the center of Moscow. The singer really rewrote the apartment for 120 squares to an assistant, however, he assures that there is no self-interest here. Like, he got housing under a life annuity agreement, that is, as a thank you for caring. However, the director did not want to discuss the delicate issue at the funeral.

Philip Kirkorov
A photo: Mikhail FROLOV
– Ask those who accuse me about it, – the director answered briefly and immediately disappeared in the car, refusing to comment. Why the funeral took place only on the sixth day, the assistant did not explain.
But the socialite Alena Kravets, with whom Moiseev lived in the same house, found a near-criminal explanation.

Nelli Kobzon
A photo: Mikhail FROLOV
"The investigation is underway," Kravets said, probably not even imagining the difference between investigative actions and pre-investigation checks. – Do you know how many police were in our yard after his death? And how much does an apartment in our house cost, can you imagine? That's why there are such delays…

The artist was applauded
A photo: Mikhail FROLOV
Be that as it may, Alla Pugacheva, who left Russia, helped to bury Moiseev at the Troekurovsky cemetery, where, according to unofficial information, the place costs from 2.5 million rubles: this was confirmed to reporters by its director Elena Chuprakova.

Boris Moiseev was buried at the Troekurovsky cemetery
A photo: Mikhail FROLOV

– Yes, Alla Borisovna helped, – the assistant confirmed, but did not want to clarify the details.