News
Alla Dukhova – about the big concert in the Kremlin: "You can get an idea of" Todes "only by seeing our solo program"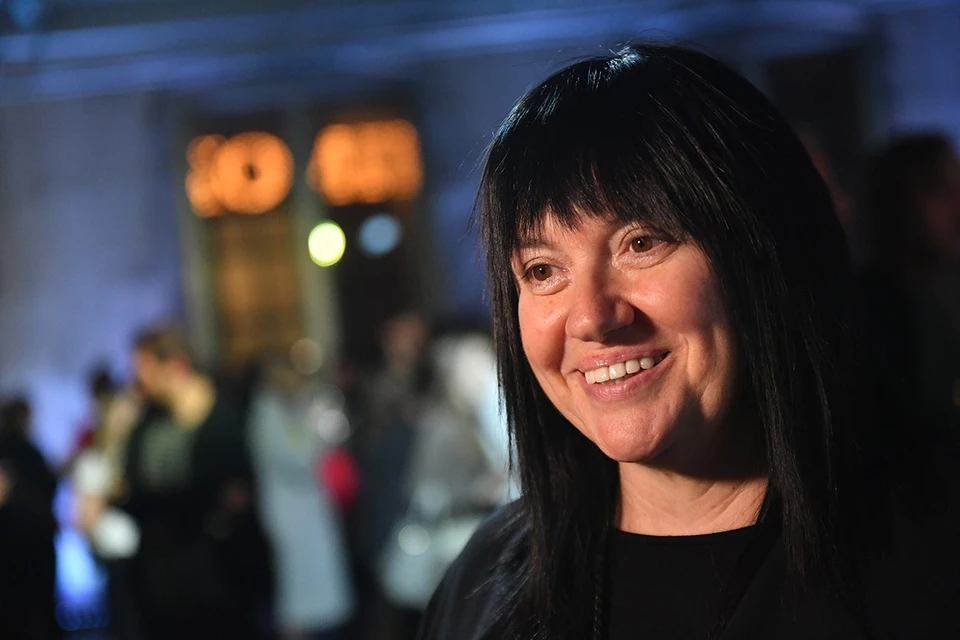 Founder and artistic director of the ballet "Todes" Alla Dukhova.
A photo: Vladimir VELENGURIN
For most Russians, autumn is a rather dull and sad time: rains, fallen leaves and other catalysts for melancholy make you rather forget the bright summer and make it difficult to prepare for the first snow. But Alla Spirit the opposite is true – the famous choreographer is preparing for the release of a new production in the theater "Todes", personal birthday (November 29) and a large-scale concert of his team in the Kremlin – November 4 in honor of the 35th anniversary of "Todes". In this regard, KP decided to ask Alla Vladimirovna about the upcoming premieres, the features of managing a gigantic team of young people and, of course, her beloved granddaughter Sophia.
– Alla Vladimirovna, on November 4 your team will take the Kremlin. What are you going to surprise?
– It will be a large-scale concert for the 35th anniversary of our ballet theatre. We will show the best fragments from all the performances of Todes, as well as a new production that no one has seen so far. The stars and soloists of the group will dance. That is, instead of singers, only artists of "Todes", dancers will perform. We decided to make just such a format, because a full picture of our theater can only be obtained by watching solo programs and performances. It will sound strange, but some do not even have a reliable idea of ​​\u200b\u200bTodes. So on November 4 in the Kremlin we will perform in this capacity.
– Why should the viewer come?
– This is a very spectacular concert, for which we spent a lot of effort. Young energy, strength, beauty, bright, very bright impressions.

– How labor-intensive is such a production?
– 150 people – this is only the troupe of the concert. And the winners of our battles also participate in such large shows.
– Which ones?
– We regularly hold a competition among those who dance hip-hop in our schools (and there are 120 of them) – all studios compete and the winner will perform at the anniversary concert. These will be guys from a school from Maryino (southeast of Moscow). It was they who won the competition this year and therefore were honored to perform at the Kremlin Concert Palace.
– You also mentioned fragments of the new production. What is this performance?
– The premiere will take place in December. Absolutely new program. I won't tell you all the secrets, I can say that the production will be exciting and interesting.

Photo: provided by the organizers
– Clear. Let's take it a little wider. You have been dancing and ballet for about your whole life. The question may seem unusual, and yet: why hasn't this bothered you yet? After all, you are probably a very wealthy person, you could afford to rest on your laurels.
– When you do ballet all the time, a team is formed that becomes a family. The team is growing both creatively and in all respects, and it is impossible to break away from this. It feeds such good, correct, young energy that you don't want anything else. We have a huge number of young students, studios, children – it's amazing. Why am I doing this? I love. And fascinated by it. I can't even find another answer.
How has your approach changed over the 35 years of leading the troupe? Before, as you said, you had to take half your salary for the smell of alcohol.
– As for discipline, nothing has changed: the dry law, you can not be late for rehearsals, for concerts. The requirements are absolutely normal – work honestly and do not be late. I think it's simple. And if someone continues, as we neatly say, to be smart (laughs), then a fine is imposed. Earlier, of course, I was tougher and the fines were larger. Now it has become more humane, but after all, this is all unpleasant for me. Do you think it's fun to issue fines? It hurts for everyone.

Photo: provided by the organizers
How often do such situations arise?
– Rarely. This is because over the years of work a good backbone has been formed, old people who explain to young and newcomers how to work, behave and what not to do. Some care. Almost like a big family. So, to be honest, I don't remember the last time I was fined for disciplinary violations.
– A family is a family, it all sounds warm and cozy, but there is also competition. In ballet, they can pour crumbs of glass into pointe shoes …
– Oh, this is terrible. Doesn't fit in the head. The first time I heard this, I thought it didn't happen. There can be no such situations! However, it happens. Of course, our guys get upset when they are not in the first line (especially places of honor on the stage for leading ballet dancers – Auth.), Or they didn't get a solo. This happens. But we have healthy competition, everyone knows that everything is distributed fairly. Depending on dedication. If you dance virtuoso, work hard, give yourself completely to the cause, then success is guaranteed. Literally inevitable. The guys know that I snatch out with a glance: op, I started working well, and immediately I bring this artist to the first line, put a solo on him. So everything depends solely on the attitude to the case, and not because of the intrigues.
– Despite the fact that they often call you, you are not very often on TV. Were not in the show "Dancing", for example. Why is that? low genre?
– No, it's different. Now I was also called to the show on NTV in the jury. And I just could not match the time, the schedule. I'm in the gym all the time, working. And shooting in the jury takes a lot of time. Of course, I'm glad when TV projects happen (Dukhovoi's student Ildar Gainudtinov won the Dance Revolution project, now he is a soloist not only of Todes, but also of the Bolshoi Theater – Auth.), after them there is an influx of people in the studio immediately. This is a popularization of the genre, great.

Photo: provided by the organizers
What about Ice Age?
– Also called. When I have time, I always go there.
– The Secret for a Million project by Lera Kudryavtseva, as they say, has been running after you for a long time.
– Yes it's true. As long as they exist, I have always run away from them, I can honestly say (laughs). But at some point it became inconvenient to promise and not come. I made up my mind. In general, it's hard for me to say no to people. So I had to choose the time. There was a good sweet conversation, a warm transfer, there was nothing criminal (the project is famous for frank confessions – Auth.).
– Can you remember the wildest or strangest case from the Todes invitations to private events?
– There was an invitation from representatives of Morgenstern (foreign agent) to dance at their wedding with naked priests, for example. Naturally, no. Or topless – do you know how many times they offered? No, of course this is unacceptable. Not even discussed.

Photo: provided by the organizers
How high were the fees offered?
– Differently. Sometimes very high. But, you understand, Todes is not a money-making machine, we often work for free. On the set of TV, at important concerts, for friendly reasons, or when you decide to meet those who have a very limited budget. We can say that 50% of our line-up perform for free. Few people know this. So if they offer to earn money, why not.
– But still. Several million rubles?
– It's different every time. Depends on the number of members.
– How do new ideas for numbers and programs appear? They cannot be repeated.
– I am inspired by everything that happens in life: music, a film, a beautiful animal, a state of easy love, a life situation. I focus on goosebumps.
– And communication with the granddaughter?
– Of course of course! If you see cuteness in the rooms of Todes, then this is definitely inspired by communication with Sonya.
– How often do you see each other?
– As soon as free time falls out. We try on the weekend. But after all, she also has a difficult schedule (laughs): she studies, studies at Todes. Therefore, I love summer holidays most of all – we are going to the country house, where we can spend more time together. I get great pleasure from this.

– How to evaluate your own granddaughter in "Todes"? Are you objective?
– And how? And how. Sonya is very emotional. Always glows. She can stand in the fourth row, but you can still see her. Shines like the sun! All over the stage. Maybe there is not enough technology yet, maybe someone dances better in a group, but it can be seen from everywhere – this is a fact. But if I see flaws, of course, I pay attention to it. We are all fair. I will never say that she is the best in the group. Bright? Yes, the brightest.
– Probably, it would not be an exaggeration to say that Todes, among other things, replaced your family. Here Lyudmila Zykina also sacrificed her personal life due to total immersion in the profession. Is it hard when you're on your own?
– If you are in love with your work, then why not? And then the children are with me, my granddaughter too, we live in a wonderful big family. Has a sister and nephews. Friends are nearby. "Todes" – also my child – with me. I do not feel that I have sacrificed something for the sake of the profession. The only thing I regret is that Vovka (the eldest son, he is now 27 years old – Auth.), whom I left in Riga with my sister Polina, while I went and worked in Moscow – a week there, a week here – I had to take with me, of course. It's okay, I would have wandered around the halls and backstage with me. But all childhood would be nearby. Although Polina had a wonderful and fun time with him. Asked for her, missed her. But then I had to insist and not follow his lead – he really liked to stay in Riga.
And the rest turned out absolutely fine. I'm with my family and my favorite job.

Photo: provided by the organizers
So you don't want to get married?
– No desire, sorry (laughs). I don't want to get married. But you can't swear. What if something happens, meeting the only one on the planet? True, I don't really believe it. And I don't think about it at all.
Where to watch: November 4, State Kremlin Palace, Alla Dukhovaya Theater "Todes. Best rooms»