News
Alexander Garden. How the front-line village, which was recently in the Nikolaev region of Ukraine, voted in a referendum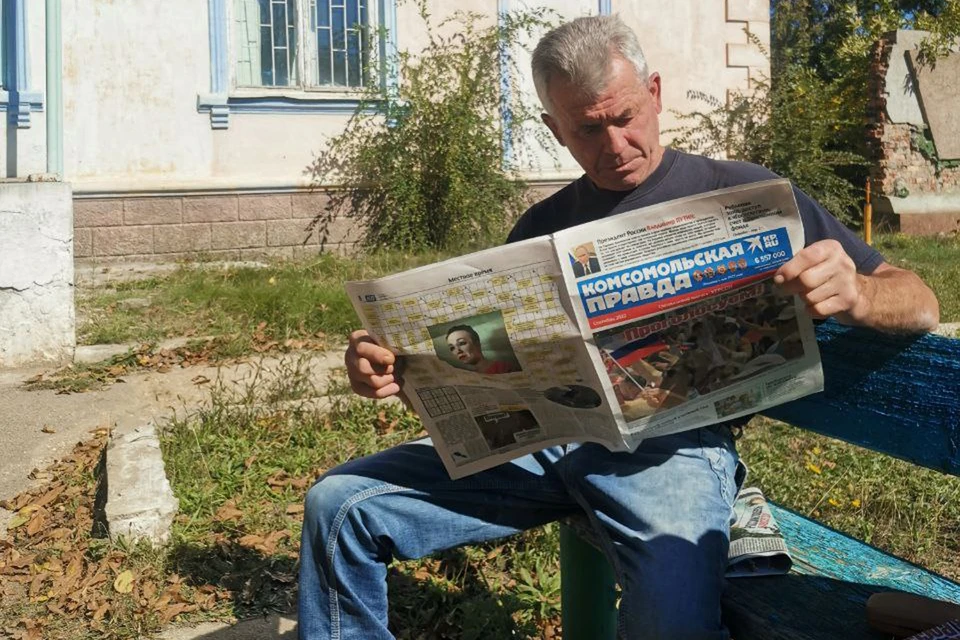 At the cafe "Arbat" in Aleksandrovka, they read the Komsomolskaya Pravda we brought from Kherson
A photo: Igor EMELYANOV
We are going to Aleksandrovka from Kherson along the upside-down road. More than two dozen kilometers share a large poster announcing the border of the Kherson region. The road ends just beyond the border. The driver of our Opel-Cadet, Alexander, who lived in Paris for a year but returned to the city on the Dnieper, talks about the fact that people in small towns are friendlier than in megacities, and therefore it is easier to live in them. True, getting there is more difficult.
LIVE HUNT
At the edge of the field, a harvester blown up by a mine turns black as a monument to carelessness.
Almost at the entrance to the village, the roof of a new church shines with fresh gilding and red tiles.
There is nothing new in Alexandrovka.
The sculpture of an unknown woman without an oar clearly knew better times, it's good that the stele of the fallen heroes of the Great Patriotic War was in decent condition, even if not carnations, but poppies at its foot.

Monument to an unknown lady in Alexandrovka dilapidated
A photo: Igor EMELYANOV
– And what do you want – before the collapse of the union, they managed to pave the village – and that was it, – sighs the head of the village administration Olga Polosukhina.
– We had 820 people, half remained. And, frankly, I was sorry when people left, – says Olga Nikolaevna, – I lived next to them for many years. I don't understand their intentions. The best shots are out. Teachers, technical specialists, which we really need now. We are going to launch the school, even with a small number of children. Now there are 67 of them. But how to return people who can work, because mostly old people are left? It is very difficult to invite young professionals here. And my dream is to make here a garden city, a garden village. Here, after all, the parks bloomed, the fountains murmured, the pumping ducks. It was very beautiful for us.

The head of Alexandrovka Olga Nikolaevna dreams that there will be a garden city
A photo: Igor EMELYANOV
In modern Aleksandrovka, there was no electricity for 6 months – until a line was extended from Kherson. And for several months they did not pay pensions – until Polosukhina made sure that the local old people received Russian payments.
And they, the old people, grateful for this as well, stretched in a sparse stream to the village council to vote.
Husband and wife Vitaliy and Tatyana Pushenko want "normal booze." From the abnormality of the former, their daughter left for nearby Kherson, and the granddaughter went to work in the distant Netherlands
Vitaly Andreevich says:
– After all, hunting is for us, and for them. And I want to go to Russia. To his wife, to her homeland in Siberia, in Bratsk.
Will I get a Russian passport? And what, with such a blue one, they will not be allowed into Russia?
We calm him down and ask what changes we are waiting for?
– That everyone will agree and everything will calm down, and everything will be fine. We are tired of the shelling, but we have already got used to it, – he says.

Spouses Vitaly and Tatyana Pushenko want to go to their wife's homeland, to Bratsk
A photo: Igor EMELYANOV
WHERE TO TICK?
The little red dog at the entrance to the vine-covered yard is silent, looking suspiciously at the intruders. But Tatyana Petrovna Fursenko explains, they say, the owners are nearby, so the dog is not worried about a sudden "invasion".
She does not hide how and for what she votes – as, indeed, her husband. And explains why he chooses Russia, not Ukraine
– Yes, Zelensky is threatening us, Vereshchuk (Deputy Prime Minister of Ukraine – ed.) is threatening us. And there is nothing to say. Because everyone looks in both directions, where are the words, where are the actions. And we do not know exactly who and where. Here were our neighbors – they left. Why, you ask? Well, we were also checked by military guys. Checked three times. They didn't hit, they didn't beat. They came, looked at the house, the yard – that's all.
– How can you live in a state of constant threat?
-What about? Well, that's how we live. So what to do? Where should we go? Where to tick? Ukraine says to us: come, we will arrange for you in the basements, we will equip everything there. Why should I leave my house in the basement? Thank you very much, Vereshchuk!
– What about pensions?
– What about pensions? I worked for so many years in hard, dangerous work – and sho? They sent me 10 years of experience without my knowledge. Fooled everywhere, cheated. I already receive a Russian pension. Received all summer. Of course, it got easier. Prices, however, have also gone up. We hire a car, go to the bazaar, and the prices in the bazaar are crazy. But now at least you can survive. And before it was simply impossible.

"Actual" inscription in the center of Aleksandrovka
A photo: Igor EMELYANOV
But it seems that Tatyana Petrovna's neighbor, Ivan Antonovich Arkhiptsev, does not agree with this opinion.
He is in his 85th year, and he seems to be one of those who "remembers Bandera".
Almost black clusters of overripe Isabella also hang heavily in his yard, a 20-liter bottle of dark crimson mash is basking in the sun by the barn, and grenadier tomato bushes evoke the idea of ​​winter spins.
Ivan Antonovich distinctly answers the questions of the head of the visiting election commission about his name and how old he is, stammers, remembering his address, but without a doubt, loudly and clearly says what he wants to vote for:
– I'm for Ukraine. I want to stay in Ukraine. I was born on May 10, 1938. And why should I be for Russia? I was born in Ukraine. I live here. I am Ukrainian by nationality. If I had been born in Russia, I might have thought differently.
After that, he asks several times where in the ballot he should put a sign that he votes in this way and not otherwise.
The head of the field and electoral committee calmly and patiently explains. Grandfather smiles with a gap-toothed mouth.

Those who find it difficult to move around also went to the referendum
A photo: Igor EMELYANOV
WAR AND URN
Sergei Safronov, the head of the visiting election commission, who goes from house to house, sweating in the October Kherson sun, with a sealed transparent urn in his hands, fought in these parts a few months ago. As part of the volunteer detachment "Bars". And in two months they liberated this territory.
Why did I decide to go back to civilian life? – he is surprised at the naivety of the question, – War is a temporary phenomenon. After all, I am a teacher of history and social studies, and now I teach my subject in the village of Belozerka. And I got into the precinct commission because it is easier for me as a teacher to talk to people. It is easier to explain the purpose of the referendum. In general, to explain – for me it has always been interesting. At least this way you get to know more and better the people of both the district and the Kherson region. And for me it is important.
– Are you surprised by the people's reaction to the referendum?
– Well, there is definitely no indifference to the referendum. Yes, there is a big problem in the region – many people are intimidated by the Ukrainian authorities. Not under the camera, in philistine conversations – these are adequate people. They, with understandable feelings, relate to our past. And they completely adequately perceive the power that is now in Ukraine. But they are afraid to say all this in public.
– What exactly?
– They are afraid that the invaders – as they call "defenders" – may return. And they'll sort it out. They are afraid for their families, for their children. Many have relatives in the territory controlled by the Kyiv regime. And this fear is taking its toll.
– Just now, one old man repeated to you several times that he votes for Ukraine, not for Russia, you remained calm and even benevolent.
– So it's his right to express such an opinion and vote as he sees fit! But there are a lot of young people too. For 30 years, things went on as if according to the proverb "if you tell a person for 30 years in a row that he is a pig, he will grunt." This, unfortunately, happened to the Ukrainian people. It was hammered into his head that his enemies were neighbors, Russians, Muscovites. And they are guilty of all mortal sins. And so it begins to take its toll.
– You changed the machine gun to a ballot box, which is harder?
– Well, now I'm walking along Aleksandrovka with a ballot box – and it's definitely not heavier than a machine gun, no. And in terms of responsibility – they are probably the same.
Speaking of possible cavils from outsiders about how exactly voting is conducted in the frontline zone, Safronov smiles sadly.
– Well, given our conditions … – sighs. – You can see everything yourself. There are constant shellings. Complying with all the rules and gathering people to expose them to the shells of the Ukrainian army is too high a risk. It's better to break procedures somewhere than to risk people's lives.
When I asked the head of the precinct commission how the family reacted to the fact that he changed one front to another, he answered as follows:
– When I returned after the fights, my wife said: if you had acted differently, I would not have understood you.
What will his wife say to him now?
INSTEAD OF AFTERWORD
When we left Aleksandrovka, the head of the administration, Olga Polosukhina, had wet eyes. She had just learned that in Kherson, when he got into the Play hotel near the Central Market, the well-known ex-deputy Alexei Zhuravko, who was warmly treated by many, died. The RT group, which was in the same hotel, was not affected. Around 16.00 in Kherson there were several more arrivals in the city center.
READ ALSO
"Soon everything will be here – Russia": what happens in Kherson on the second day of voting in the referendum on joining Russia
KP.RU special correspondent Igor Yemelyanov watches the Kherson region vote at the referendum on joining Russia (more)