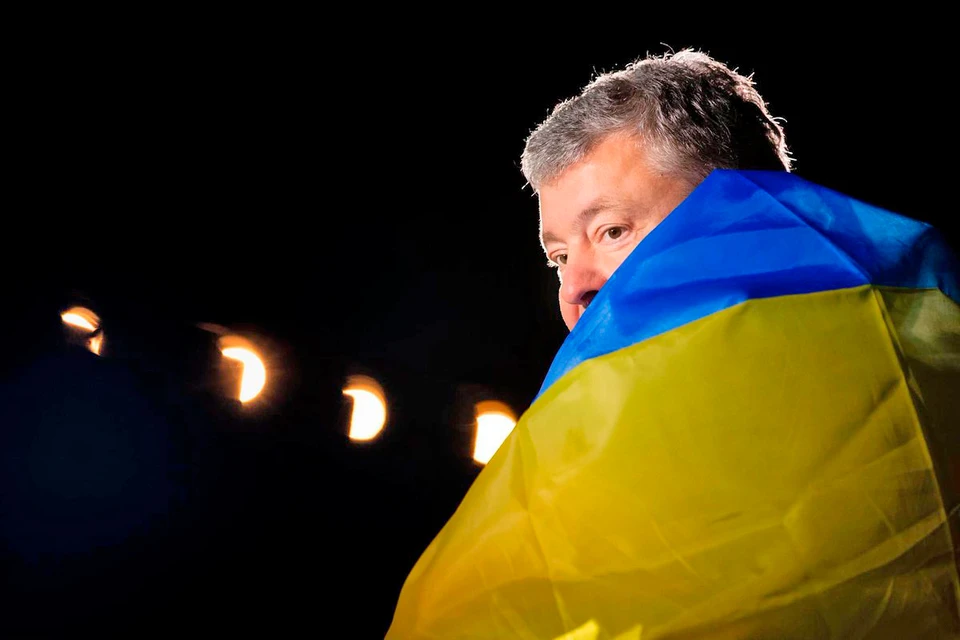 Ex-president of Ukraine Petro Poroshenko returns to his homeland.
Photo: GLOBAL LOOK PRESS
In a day, on Monday morning at the airport in Kiev will unfold epic battle "opponent" of the incumbent President Petro Poroshenko against the current Ukrainian government. Opponents of Poroshenko hope that he will be detained immediately after the plane lands, and supporters are preparing, if necessary, to repel him almost by force from law enforcement officers.
There are formal grounds for this – the Pechersky District Court of Kiev put Poroshenko on the wanted list after he evaded handing him a summons with suspicion of committing high treason and disappeared into the European expanses a month ago. Many in Ukraine howled with joy that Zelensky began to fulfill at least one of his campaign promises, when in a debate with Poroshenko during the presidential election campaign in Ukraine in 2019, he promised Poroshenko all over the country: "I am your sentence" .
But they rejoiced early. The court has actually played back, explaining that it hopes that Poroshenko will appear for consideration on choosing a preventive measure for him. And this means that, in any case, the court will not send an escort to the airport to ensure a forced turnout. But this is not enough for Poroshenko. He decided to use the current situation to the maximum in his own interests, especially since, according to the latest opinion polls, Poroshenko's party is practically equal to Zelensky's Servant of the People.
AND Poroshenko decided to escalate the situation by accusing Zelensky of turning Ukrainian "democracy" into his personal dictatorship.
– You are trying to do what every person who claims to become a dictator does. Turn democracy into dictatorship. You want to return the majority system in order to buy votes for buckwheat and through "Diya" (an application similar to the Russian "Gosuslugi" – ed.) because this is your only chance. You want to eliminate the open-list electoral system," he lashed out at Zelensky. – You want to destroy democracy just like you did in the 2021 elections. You are afraid of parliamentary elections, and therefore you want to postpone them. Because after the parliamentary elections you have no chance to take the presidential elections. And you are trying to divert attention from your miscalculations and the critical situation that, thanks to your incompetence, has developed in the country with "videos" about Poroshenko.
Not without criticism of the latest initiatives of the Zelensky team.
– You have introduced price controls on basic foodstuffs, which leads to the disappearance of these products from store shelves. You will bring the country to food cards," Poroshenko continued to nail the current president to the "Board of Shame."
And in conclusion, he countered all this "rampant Ze-crime and Ze-corruption" with himself – soft, white, fluffy, a real fighter against corruption and the only savior of Ukraine.
– Mr. Zelensky, there is bad news for you: on January 17 at 09:10 I am returning to Ukraine on a flight from Warsaw. Of course, not in order to defend yourself from you, you are not worth it. And in order to protect Ukraine. Defend Ukraine from Russian aggression. And today, here in Brussels, everyone is saying that this threat to the whole of Europe, and not just to Ukraine, is perhaps the biggest in the last 30 years. The only thing is that you don't understand it. Protect from incompetent and non-Ukrainian authorities. The authorities of idlers and corrupt officials, – he summed up, drawing the image of a white knight in shiny armor with the last broad strokes.
One could say that Poroshenko called Zelensky to the barrier with this appeal, but a duel is clearly not what these two "knights" will go for. It is, of course, the question of what will become as a result of their struggle with Ukraine. And will she remain after the fight in the spirit: "So do not get you to anyone!" But things are already there in such a way that it will be much worse, if it will be, then not for long.
Zelensky, quite likely, would not mind returning the situation back and unscrewing the wheel of time, but after such an escapade by Poroshenko, he either has to take Petr Alekseevich to the prosecutor, or he will take him, no, not to the registry office, but besides prosecutor. Because there should only be one of those non-MacLeods left.