Top Stories
Expert: No one really needs Ukraine as part of NATO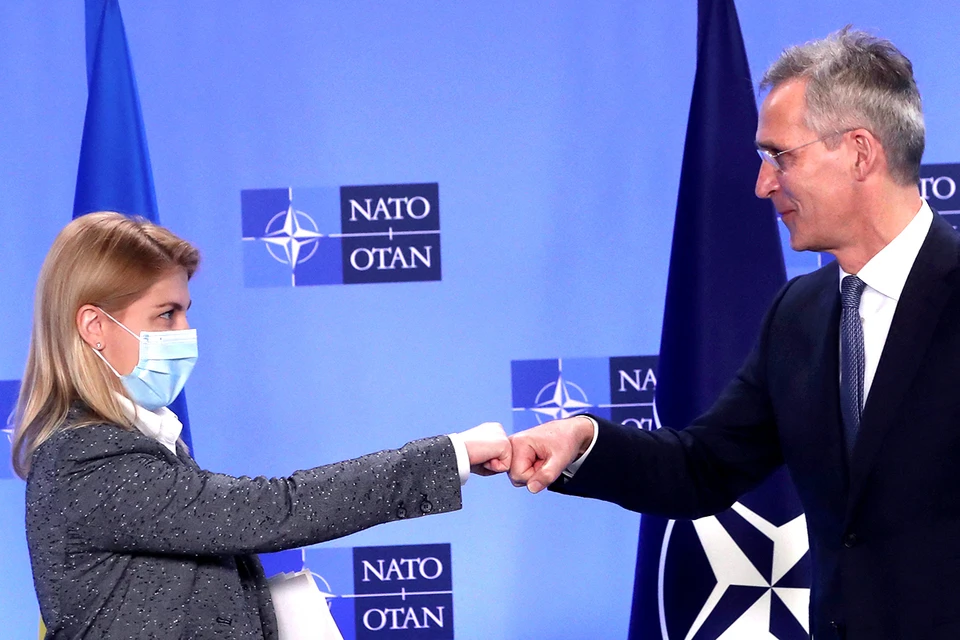 NATO Secretary General Jens Stoltenberg and Deputy Prime Minister of Ukraine Olha Stefanyshyn at a joint press conference in Brussels
Photo: REUTERS
De-escalation requirements situations on the Ukrainian-Russian border, sounding more and more loudly from the West, have no basis, if only because Russia does not produce any escalation in this region. Is it possible that the next round of promoting the image of our country as a potential aggressor, waiting for an opportune hour to invade Nezalezhnaya, is just a convenient excuse for Washington to try to stop the launch of the Nord Stream 2 gas pipeline? After all, the United States has repeatedly attempted to subjugate the European gas market to the detriment of Russian blue fuel.
Director of the Franklin Roosevelt Foundation for the Study of the United States of Moscow State University, Americanist Yuri Rogulev on the air radio "Komsomolskaya Pravda" stated that he believes that the ambitions of the Americans are not limited to the gas pipeline:
– I think that the goal is actually much broader than just Nord Stream 2. The goal is to use Ukraine as the main irritant. Ukraine, in fact, is what is needed for this, and it is precisely this role that it retains in the entire Western community and in NATO including. They may not particularly need Ukraine as a NATO member, but as a center for creating tensions against Russia, as a kind of irritant, as a lever of pressure from the West on Russia, it suits them very well. This is just a vivid example when Ukraine is used precisely for this. That is, the arrows are transferred to Russia. Since they are talking about a possible attack, it means that Russia looks like an aggressor. If Russia looks, I repeat, is not, but looks, then a certain myth is created about Russia as an aggressive state, against which it is necessary to unite, against which certain measures must be developed.
In the West, this myth was invented and spread by themselves, and now they are still trying to substantiate this myth with some agreements of a practical nature, in the financial, economic and other spheres. This is a plan, and, as we can see, it is being implemented in all areas. The question is, how seriously are the Europeans themselves ready to be a pawn in the hands of American politicians?
READ ALSO
What "military means" can Russia respond to NATO
Military columnist kp.ru Viktor Baranets – about the possible reaction of Moscow (more)
Finnish Foreign Minister denies plans to join NATO
Helsinki not going to change course in international politics (more)