Top Stories
Houses that are laboratories of materials | Business
The claim of having a green and passive house, sells. Promoters and builders know it, and buyers are beginning to sense it. But not everything that is sustainable is ecological. To deal with this greenwashing housing projects are emerging that are authentic laboratories or test benches for materials and techniques that really define what residential buildings should be like. almost zero or positive energy consumption.
In Robledo del Buey, a small town in Toledo with only 99 inhabitants, is Pasiva Positiva, a house that spreads the principles of the Passivhaus high energy efficiency construction standard, through which hundreds of curious people, students and professionals pass to learn about first-hand experience of living in one of these properties. "It is the visitor who unlocks the door and stays alone in the house, being able to look, touch, feel, drink or eat whatever they want. It is at home", explains its owner, Luis Martínez, managing partner of Passivhaus Consultores.
Visitors, who can even stay overnight, go there to clarify doubts about the type of home they want to build. They prove in situ the well-being that a house of these characteristics provides. "It is not just about putting more insulation or better windows, which is what is usually associated with passive houses, but there are features that must be maintained in the long term, such as orientation, a distribution that favors ventilation… and, of course, the user will have to become familiar with his own house as he had never done before", says Martínez.
This particular house also has little electrification and even fewer appliances —a small refrigerator, an induction hob and an extraction hood—. This is one of the reasons why it only consumes 7 kWh per square meter per year, which represents a 98% lower demand than that of a conventional home. To do this, it has ventilation systems with heat recovery, aerothermal systems for air conditioning and a solar generation and storage facility.
Passiva Positiva was raised without great exterior boasting, it is a house-workshop raised with thermoclay. Although in reality they are two properties in one that allow the visitor to compare: one built according to the Technical Building Code and another with the passive house standard.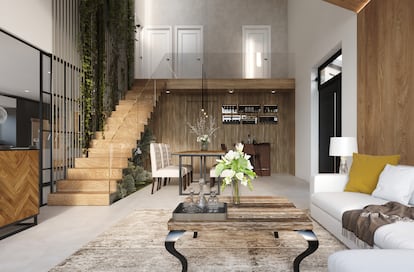 He knows in depth all the sides of the coin.
About 210 kilometers separate Pasiva Positiva from Casa Sophia, another laboratory, in this case focused on sustainability and the healthiness of materials. Soon this house, about to finish its construction, will open its doors to the public in Guadalix de la Sierra (Madrid).
During the first years it will be home by Ander Echevarría and Raquel Peláez, partners at 100×100biopasiva, who have spent the last three years thinking about what to include in this home and how to design it. The number of companies that have participated in what aspires to be the most sustainable home in Europe exceeds 30; mostly manufacturers who have provided materials free of charge.
It will be a laboratory where everything will be monitored: tropospheric ozone, radon gas, humidity, energy consumption… For this, it is essential to use materials that contribute to better air quality, but also that, in their manufacture or processing, have a very low environmental impact.
"Very innovative materials have been used in its construction, such as an interior laminated plasterboard that has a treatment that helps absorb formaldehyde, exterior mortars and interior paints that trap CO2, solar tiles, continuous 100% natural plaster pavements. alabaster from Teruel that also absorb CO2 and regulate humidity, as well as recycled glass insulation or thermal sealing of sheep's wool around the windows", quotes Echevarría.
For photovoltaic self-consumption, 60 solar panels and an extra solar tile have been installed "so that customers can decide between installing a tile, which is much more integrated and aesthetically more beautiful, or the traditional plates", details the partner of 100×100biopassive.
In the process of being certified Passivhaus Premium by the Passivhaus Institute and Green 5 Leaves by the Green Building Council (GBCe), the highest ratings in these seals, this house with a wooden structure will also be zero CO2, since the footprint will be calculated environment and offset their emissions. In addition, it will have effective water management, reducing its consumption by up to 70%. The resource will be reused to fill the cisterns of the toilets in the four bathrooms, irrigate the plot, the roofs and the walls of the façade, made up of native plants from Guadalix de la Sierra.
know the wood
In Barcelona, ​​the construction of Lilu's House has just begun, which aims to be a database and dissemination of knowledge on biopassive construction with wood according to the Passivhaus standard. At the same time, it will be the office of its promoter House Habitat, the home of one of its partners and a research unit, since it will serve as a case study in the practical classes for students of the Escola Politècnica Superior d'Edificació de Barcelona.
According to Pere Linares, manager of House Habitat, "in this project the knowledge of more than 15 years in wood construction will be poured". With the participation of more than 30 companies and professionals, Lilu's House, with 177 square meters distributed over two floors, will have an energy demand of 42 kWh per square meter per year, with renewable energy generation exceeding 60. "We estimate that the economic savings compared to a conventional house of the same size will be 75%", he points out.
One of the companies that has donated its sustainable insulation solutions to both this house and Casa Sophia is Knauf Insulation, a pioneer in the manufacture of mineral wool using natural binders of plant origin. "We share with the promoters of these houses the research work of healthy materials, in order to reduce the CO2 emissions that these buildings would generate with other products", explains Óscar del Río, general director of Knauf Insulation. The mineral wool placed inside the walls and the façade can be touched in the exhibition of materials at Casa Sophia.
For Paula Rivas, technical director of the Green Building Council Spain association, the fact of having examples of projects that are going to be inhabited and that allow us to feel what a sustainable house is is essential to demonstrate that sustainability is something measurable and real.